See what people are saying about our in-home personal trainers
We at Every Body's Personal Trainer take our reputation for providing great in-home personal training among the community very seriously. At Every Body's Personal Trainer, our clients are considered our friends, not just our clients. Not only is our in home personal training company passionate about providing great customer service and personal training in Maryland, Virginia, and Pennsylvania in the comfort of your home, but we are heavily committed to providing you the results that you desire. The following are testimonials from some of our clients at Every Body's Personal Trainer:
Hey Eric,
I just wanted to drop you a note to let you know how I am doing. Since we began training two months ago, I have lost 12 pounds, and three inches on my waist. I feel so much stronger now, and I no longer feel winded walking up the stairs. Remember when I couldn't even do a push-up???? Thanks for all of your patience and constant support. You are very motivating and inspiring. I can't believe I actually look forward to working out :)
Barbara D.
Columbia, Maryland
Eric,
I have been through so much over the last two years. After switching jobs and being down in the dumps, I gained so much weight and lost so much confidence. I was really on a downward spiral. I remember when we first met for our free consult. You had all of this energy and I thought you were going to kill me. I could not have been more wrong. With each workout you gradually made the workout tougher, to the point where now I feel like I am in great shape. My self esteem is so much better now, and I feel great. I consider you not only my trainer, but my friend. By the way, I hate lunges....
Robert Gathers
Ellicott City, Maryland
Regarding my Personal Training Experience with Eric Leader:
Eric and I have been working together for four months now. We meet for workouts three times a week. As a stay at home mom, I don't have a lot of flexibility with my schedule and wasn't sure about starting a fitness program. However, I knew I had to change. My cholesterol was measured over 200, and I was considered morbidly obese. I kind of figured I was a lost cause. I tried working out on my own, but was too bored. I hate working out!!! So I figured I'd give Eric a call. This was the best decision I ever made. I was really nervous when we first met. But Eric is very easy to talk to, and makes you feel so relaxed. We started slow, and before I knew it, I was ACTUALLY losing weight. It was slow at first, but after four months I have now lost 22 pounds. I even can see muscles for the first time. I have more energy to play with my kids and I know I owe that all to you Eric. Thanks for all your constant monitoring of me, and my nutrition as well.
Ruth Frederick
Eldersburg, Maryland
Every Body's Personal Trainer
Who would have thought you could get such a great workout at home? The idea of in home personal training is so cool...My girlfriends and I were sick of being overweight and sluggish. We felt that by working out together, we would stick to a fitness program better. Having an in home personal trainer work us out was a great idea. We have so much fun and the results have been somewhat surprising. I recommend Every Body's Personal Trainer to anyone looking for a fun way to get into shape, even in their very own home!
Shauna Jones
Columbia, Maryland
Hi Eric,
I just wanted to thank you for all of the help you have given my daughter. As a 14 year old, it is very hard to be overweight. Kids can be very superficial and cruel. I didn't want my daughter to have to worry about the way she looks and have to come home upset. The way you helped her, and made her realize that exercise can be fun, shocked me. Not only did she lose the weight, but she even works out when she does not see you. She always enjoys your workouts with her, and always comes home with a smile on her face. In my opinion, that is priceless. Although, I now have another challenge for you. Mom, needs to lose some weight....
Becky R.
Owings Mills, Maryland
Hi Eric,

As of 3 weeks ago, I was down to 170 which was 10 lbs lost. I have a feeling I've lost at least 5 more...I'll let you know. But, the biggest change are the inches and clothes sizes I've dropped...and I have muscles now!

Here are my stats and how many I've lost since we started on 7/7:
bust area 38" -- lost 3.5"
bicep 12 -- lost 1"
waist 32" -- lost 6"
hips 41" -- lost 6"
thigh 23.5" -- lost 3.5"
calf 15" -- same but lots harder! :)

I have given all of my size 14s to Goodwill and some of my 12s. I am starting to fit into size 10s!!! have a bunch of old clothes I was hanging onto and am wearing them again! I think my wedding dress will actually fit! :)

Eric, regardless if I win this contest or not, I cannot thank you AND ADAM enough...I feel so much better and I look so much better!!! I have energy I never knew I had and am really proud of myself for doing this for me and my good health. I will be a much more confident bride now. I have 1 more month and hope to continue the hard work.

Thanks again

Lisa W., Glenelg Maryland
Re: Personal Training with Eric,
It's going great as far as I can see. Daniel really looks forward to working out with Eric. "I've noticed Daniel seems to carry himself a bit "straighter" and doesn't drag his left foot as much. That in itself was worth the money - And Eric's personality fits Dan's demeanor as well - Daniel is also more "self motivated" now to go downstairs and work out even on his own - never did THAT before!!!
SO - so far so good! We MAY need to extend this a while - maybe at two times per week. We'll look at our finances, but in the mean time, we can take what he's learned, and we can plan on longer term gains on top of the improvements we're already seeing!
Marty Lepage - Columbia, MD (referring to his son Daniel)
"Amy, from my first session, has patiently taught me to be friends with the equipment I was once intimidated by. She has educated me about nutrition and making healthier eating choices, which I have long needed. "

–Mary E. Galetar
Hey Guys,
Just wanted to thank you again for all of your help and support. I can't believe how far I have come. You guys are a real life saver. I have always hated working out with a passion, but your trainers make working out fun. Not only professional and knowledgeable, but sincerely caring about how I am doing and my progress. I have had trainers in the past, and never had trainers who cared as much as you you all. Eric, you have always been available to help, whether via phone call or email, you always take the time to respond to my questions. Thanks so much for Katie, she has been the greatest help. I can't wait to give you my before and after picture.
Tara Borden
Ellicott City, Maryland
Every Body's Personal Trainer,
As a business executive, I don't have a lot of time to workout. My schedule is always in flux, and my free time is extremely scarce unfortunately. Nonetheless, I knew I needed to somehow find a way to get my workouts in. My stress levels have always been extremely high, and I knew that with my blood pressure and weight, I was a ticking time bomb. Your service has been extremely valuable to me. You have met the demands of my schedule, which is an extremely tough task. For the first time in my life, I am working out on a consistent basis, and I am noticing the results. Thank you for getting me back into shape. I am so much more efficient at work, and my energy levels have really improved. I look forward to purchasing more sessions and continuing with my progress.
Michael J. Rawlings
Baltimore, Maryland
Every Body's Personal Trainer,
As an out of shape mother of four, I haven't had the time, or energy level, to stick with an exercise program. Sometimes I feel as if there is not enough time in the day. For the longest time, I have wanted to try to get back into shape. As a birthday gift from my husband, who is also a client, I received one of your personal training packages. I was apprehensive at first, but boy am I happy that he invested in your services. It has been two months now, and I have lost 25 pounds!!! My overall muscular strength has improved dramatically, and for the first time since college, I can see muscle definition. I can't wait until summer...Thanks for all the help and I wish you all the best.
Sincerely,
April Flanagan
Columbia, Maryland
Every Body's Personal Trainer,
Every Body's Personal Trainer is the best!!! I am 15 years old and I made my high school soccer team. With the help of my personal trainer, I improved my speed and my agility. I was never very fast, but I am now one of the fastest girls on the team. Thanks guys!!!
Lindsay Dwyer
Eldersburg, Maryland
Every Body's Personal Trainer,
After tearing my ACL, and giving birth to my two sons, I gained a tremendous amount of weight. I gained so much weight, I refused to visit my family out in California for the fear that they would make fun of how much weight I had gained. I knew I did not have the discipline to lose the weight on my own, so I knew that I needed a personal trainer. I am so happy to now say that I have lost 55 pounds!!! My knees do not hurt nearly as bad as before, and I feel like I have so much more zest for life than I did before. I never would have thought I could do it. Thanks for all of your hard work.
Lynn Swanson
Towson, Maryland
Every Body's Personal Trainer,
Thanks for helping Daniel prepare for his high school football team. I hear him bragging to his friends all the time how much he can bench press. I can't help but laughing. Your company provides such a great service. Keep up the good work!!!
Joan McElduff
Towson, Maryland
Every Body's Personal Trainer,
As an 82 year old senior, I was hesitant about engaging in weight training. I knew how important it was for my bone mineral density and osteoporosis, but I had never done it before. Thanks to you, I now love resistance training and feel so much stronger and more energetic. I thought you were asking too much having me use 15 pound dumbells, but I can do it! Thanks for working with someone my age.
Ruth Gentry
Baltimore, Maryland
Every Body's Personal Trainer:
I just wanted to thank you for helping my wife get back into shape. After having our boys, she gained a lot of weight, and really lost a lot of confidence. Since working out with Every Body's Personal Trainer, I have noticed a great boost in her self esteem. Thank you so much for helping my wife Sherry get her confidence back.
All my best,
Dominic Pagliani
Catonsville, Maryland
This company is refreshing because they don't just care about making money like some other companies out there. Their trainers truly care about their clients and the progress that we all make. With constant check-ups and calls, they really take personal training to the next level. I have referred Eric and his staff to many of my friends and will continue to do so. Thumbs up to Every Body's Personal Trainer!
Mike Deverau
Pikesville, Maryland
Eric,
I am attaching a photo of my wife, Elena Woodka. Although Elena only worked with Haejin for 10 sessions, the results have been dramatic. Not only did Haejin push Elena, she also taught her how to maintain this regiment. I can attest that Elena now works out at least 5 days a week, and her confidence (after 2 kids) has reached a new high!
Thanks,
Steve Woodka
Germantown, Maryland
Amy lost 34 pounds & 15% body fat!
You can experience similar results!!

Amy Before
171 pounds
Size 10

Amy After
137 pounds
Size 4
Every Body's Personal Trainer
Words do not describe how thankful I am with all that you have done for my son. Michael's self esteem has been so low because of his weight, that I knew we had to do something. I was worried that a personal trainer may be too much for Michael, however, I could not have been more wrong. He has achieved great results, and loves working out with his personal trainer. He has been having so much fun, he wants me to renew his personal training program as a holiday present.
Kind regards,
Alicia Stills
Fulton, Maryland
Eric,
I recently got promoted to essentially my dream job. The problem is that the job will require grueling hours from 6 or 7am to 5 or 6:30 pm. I know the only way I can do this job (including several months at a time over in the war zone) is to keep working with Nick at least three days a week. We have been meeting with Nick Monday, Wednesday, and Thursday at 6:30pm, and we asked him if there was any way he could find other times to meet with us. Nick is quite busy with other clients, white water rafting, and his bands I felt this was quite an imposition. He assured us he would find time and not to worry. (Well I still worried, its a bad habit I am trying to work on!) I was ecstatic when he told us today he worked things out with other clients and will be able to meet with us Monday, Wednesday, and Thursday from 7:30 to 8:30pm.

Nick pushes us very hard, which is what we wanted. I now look forward to working out, and working out hard. I know if I go easy I only cheat myself (I have to remind Jack of that from time to time too!). Working with Nick makes it easier to work out when Nick is not there, which is a pleasant change from dreading it. Nick is polite, affable, professional yet easy going and fun to work with. The only time he was late was when traffic shut down a road both Jack and I had sat on too, and he called a head of time and insisted on staying late to make sure he made the full time. Again, this was completely out of his control but it would have been easy for him to rush off.

Because of our good experience with Nick, Jack and I have concluded with the demands of our jobs right now it is paramount we continue to work out three times a week with Nick.
Jack and Ann W.
Frederick, MD
Every Body's Personal Trainer
Who would have thought you could get such a great workout at home? The idea of in home personal training is so cool...My girlfriends and I were sick of being overweight and sluggish. We felt that by working out together, we would stick to a fitness program better. Having an in home personal trainer work us out was a great idea. We have so much fun and the results have been somewhat surprising. I recommend Every Body's Personal Trainer to anyone looking for a fun way to get into shape, even in their very own home!
Shauna Jones
Columbia, Maryland
Eric,
Tiffany is fantastic! I met with her on Sunday and not only is she very personable, she is knowledgeable and so well-rounded. Thanks for hooking her up with me, I can't wait for us to get started. I am very pleased with how quick the response time is with Everybody's Personal Trainer. Thanks Eric.
Sonja M.
Fairfax, Virginia
Thank you so much for the birthday gift!! That is really thoughtful of you. By the way I went to the mall on Saturday - and usually I dread spring/summer shopping, but when I tried on a short sleeve blouse I was amazed on how my arms looked.
I am overjoyed with the results that I am seeing with my body. I just wanted to let you know how grateful I am to you. You keep exercising fun! You really give me that encouragement to keep going and I love that that you challenge me as well. THANK YOU!
I look forward to seeing you this Saturday at 8 a.m.
Susie
Silver Spring, Maryland
Hi Eric,
Since I finished my last session on Tuesday I wanted to send you a little note to thank you. Claudia was great! She listened to my needs and concerns and helped me meet the goals we set for our training sessions. I particularly wanted to learn how to use all of the equipment we already owned and I can say now that I use it confidently! I will miss working with her!!
If I require more sessions, or my husband wants to give me another present, I will be sure to contact you. I just wanted you to know what a great experience this has been for me.
Thank you very much,
Jennifer W
"Bernadette's high energy and persistent motivation makes working out blast! She takes great pains to make herself available at anytime of day for questions. She is truly committed! She works diligently to help me reach my goals: from endurance building and ab-blasting to specialized mea plans, Bernadette is the whole package!" -Kathyrn
Eric, (from my college roommate)
I wanted to talk to you because I never got to thank your for giving me the bug. After I left school I stuck with the weight training and eventually started competing in bodybuilding. Every time anyone asks me about how I got started I always bring you up and our room mate photos sophomore year.
Seriously though I give you a lot of credit. I think about how we almost tried not to be roommates so I could live with John Craig Wow....what a difference that would have made in my life.
Ruben J, Richmond Virginia
http://bodyspace.bodybuilding.com/lightheavy1st/
"My life has truly changed since I began training with Bernadette…my weight had ballooned…I couldn't climb stairs or walk a block to get the paper…I tried to lose weight nothing worked…until Bernadette."—Pat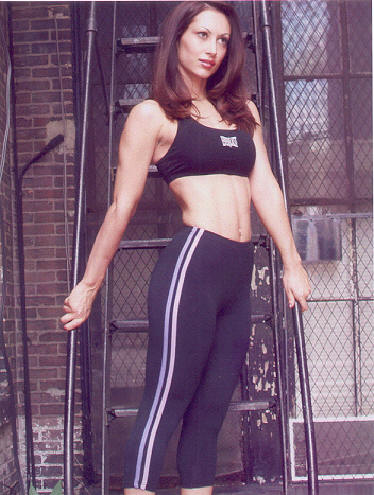 In Home Personal Trainer Dawn
Hi Eric,
Just wanted to send a quick thanks for sending Richard Ghoneim as the trainer for my son Robby. He has been GREAT and a BIG change. I hope we can continue to have Richard work with Robby during the school year.

Regards,

Cindy Brinkmann, Fairfax Virginia
Hi Eric,
Thank you. Thank you. Thank you. Tiffany was the right choice. We are totally psyched that she comes with the range of knowledge re: nutrition, body type, stability, exercise, etc. Her well-rounded approach will definitely work for us. I thank you again for going the extra mile. We look forward to the work!
Andrea, Beltsville Maryland
Hi Eric,
I want to thank you and your staff for the help, Elena has lost weight and is getting in GREAT shape!
…She may even have a chance at winning your contest!
Steve W. Rockville, Maryland
Hi Eric,
I wanted to provide some feedback on my training sessions with Tiffany
Moore. I have enjoyed working with Tiffany. She has helped me achieve
some improvement already and we have only completed about half of my
sessions. She is good at what she does. She pushes me, but is
very patient and encouraging when I need her to be.

- Kristy, Springfield Virginia
Tiffany,
I wanted to relay to you how much better I feel, especially with the everyday little things like not getting so winded climbing the escalator or walking to my building from the metro in the morning. I feel stronger and I'm more alert at work, and I'm sleeping better. I know we discussed me having some time by myself to do the workouts and see how I do, but I would like to continue the twice-a-week plan at least another 10 sessions if you feel you can commit. If Tues/Sat won't work or if you have scheduling conflicts, I can work around them, but I don't want to stop now when I'm finally being consistent in my efforts. BTW, I really felt the effects of the new workout in my stomach and my thighs. Thank you! :)
Have a great day... see you Saturday!
Gwyn C., Fairfax Virginia
R.E. Working with personal trainer Tiffany Moore
"I wanted to Thank You for giving me tools and setting me in the right direction to becoming fitter and healthier. I really enjoyed your teaching style and the different ways you showed me to work out each body part;"
Serena Sanchez, Fairfax, Virginia
"Lisa is such a great person and she is so committed to her health and fitness and a pleasure to work with."

-Monica Seles
Tennis Pro
Winning 53 WTA Singles Titles
Dear Eric,
I want to thank you for getting Amy and me together. She has done a tremendous job getting me out of total hip replacement rehab and able to walk without a cane!

She is a total inspiration and joy to have in my home.

Merry Christmas thanks again for bringing Amy into my life.
Paula Dailey, Springfield, Virginia


"Our program made huge strides in all areas of conditioning under the direction of Lisa Reed. During the time she worked with our program, our team not only won four SEC Championships we went all four years without dropping a single match in the league."

-Mary Wise
Head Volleyball Coach
University of Florida


"Lisa will give you the training and nutritional tools to achieve the pinnacle of athletic and physique success!"

-Jose Antonio, Ph.D. CEO,
International Society of Sports Nutrition


Re: Professional Recommendation for Nicole Babka

To Whom It May Concern:
We are all looking for that magic pill, the perfect diet, the fastest way to get back into that pair of jeans
we've had in our closet since high school. Eventually reality sets in and we finally accept that the
answer is dedication to a healthy lifestyle, a solid sense of self, and exercise. Most of us harness the
strength to change bad eating habits, join the gym and start sweating. Shortly thereafter, some
success is seen, and we are reassured that our efforts are paying off - we see results. Then we reach
a plateau. We are feeling better but frustrated that the visual changes for which we were hoping aren't
taking shape as quickly as we had expected.

When I reached that point, a good friend recommended that I work with a personal trainer. She had
been working with Nicole Babka and suggested that I consider becoming a client. I spoke with Nicole
and began working with her last spring. We discussed my expectations for changing my body and
moving beyond the plateau that I had always battled. I also shared with Nicole that my husband and I
planned to expand our family, and that I hoped to exercise throughout that pregnancy. I expressed my
concern that a personal trainer may not be prepared (or willing) to work with a mother-to-be. My
expectant condition could potentially require extra time of a trainer to think outside the box and
augment my workouts in order for my progress to continue, while still respecting the limitations that
pregnancy presents. In very short order, Nicole alleviated all my worries. Over the past year, Nicole
has not just "worked" me, she has worked WITH me. She has helped me change the way I think about
exercising and, as a result, I am now stronger, more committed and more fit than I was five years ago.
Were we to discuss the exact exercise regimen that Nicole designed for me, you would find that she
clearly takes a unique approach to each of her clients and their needs. Nicole is professional,
committed to her clients, and concerned about their total health. I see average trainers at the gym every
time I workout. They crank out the same routine with everyone, and their "efforts" confirm the fact that I
would never consider spending my time or money for such a generic approach to my health and wellbeing,
both which I take very personally. Nicole is realistic, challenging and respectful of her clients. I
strongly recommend that you carefully consider adding Nicole to your team of trainers. She will bring
with her a professional and unique approach to helping people met attainable health and fitness goals
in a realistic and empowering fashion.

Please feel free to contact me if you would like to discuss the details of my workout programs or the
details of my working relationship with Nicole. Thank you for your attention and consideration.

Sincerely,
Shelley S, O.


"After working with Lisa throughout high school, I was well prepared for lifting in college, to the surprise of my college strength coach. She taught me the importance of weight training and the correct form, as well as imparting a love of the weight room."

-Anna Barrett
National Cathedral School, 2005
Dartmouth College
Women's Soccer Team


"Lisa is addictive! She is part teacher, part motivator, part coach, but full-time friend. She makes me challenge myself to be better and stronger. Hang around with Lisa, and you'll find her blend of technique, exercise, and nutrition will become part of your life."

-Elizabeth Mullen
Media Relations Specialist
Washington National Cathedral


When I was finally sick and tired of being sick and tired, Lisa was there to teach me to eat properly, get and stay fit, and build the body I wanted. Her combination of personal example, motivation and encouragement, and simple, consistent training techniques restored my health and literally changed the way I live. More than 60 pounds off in just over a year and building muscles I thought were gone forever. Lisa taught me to achieve, not dream!

-Greg Rixon
Director, Office of Public Affairs
Washington National Cathedral


"Lisa Reed is a motivator and and inspirational figure in the weight room. She is committed to developing the strength, agility and overall fitness of her athletes and her clients. She is dedicated to the needs and aspirations
of those she works with and will always demand peak performance. Lisa will encourage you to set your expectations high and in doing so will help you meet your goals."

-Ashley Dean
Assistant Volleyball Coach
Northeastern University


"Not only did Lisa help me to achieve fitness for competition in high school, she also showed me how wonderful it feels to always be in shape. In the NCS Weight Room, she showed us all the importance of exercise by patiently helping us to achieve our fitness goals, which ultimately helped our team to perform at its best. Although I no longer compete in college, I attribute my desire to be fit to Lisa's training. Her self-motivation is contagious. She constantly sends me workouts that make going to the gym fun. She is the perfect prevention from the freshman fifteen!"

-Ashley Speights
National Cathedral School 2004
University of Virginia


"I have known Lisa for 10 years, as a friend and colleague and you will not find anyone more passionate about training and leading a fit and healthy lifestyle. Live to be Fit is not her company; it is her life! If you want rock- solid, creative training programs combined with cutting edge nutrition and lifestyle tips, her programs will take you to your goals and beyond. Her passion will become your passion."

-Robert Lindsey, CSCS, USAW
Marketing Manager- Power Systems, Inc.


Coach Reed's background as a strength and conditioning coach, collegiate gymnast, and professional fitness competitor has garnered her the experience necessary to train individuals to their specific needs in pursuit of success. Lisa has overcome surgical setbacks and athletic challenges that enhances her abilities as a coach in the areas of fitness and strength and conditioning that enables her to have patience to adapt to the needs of her clients. Having known Lisa for over ten years in the strength and conditioning field - I know her to be respected, knowledgeable, and highly sought after for her opinion by her colleagues throughout the country. Working with Lisa will put you in position to achieve the goals you set for yourself - if you are willing to put in the effort.

-Barry Kagan
University of Maryland
Strength & Conditioning Coach


I enjoyed working with Lisa during her time at National Cathedral School. She was always professional, energetic, and enthusiastic! She did a fantastic job working with our athletes in getting them ready for competition. She also gave our college-bound athletes a jump start in their preparation for intercollegiate competition. I miss her upbeat, positive attitude!

-Jane Degrenier
National Cathedral School Lacrosse and Field Hockey Coach


Lisa Reed is a fabulous teacher of fitness. She made significant improvements in the technical aspects of weight lifting with my oarsmen. I believe that we got faster on the water due to her skills as an instructor in the weight room. Lisa is also a great resource for training ideas especially in developing core circuits and creative ways of make exercise fun and safe.

-Ted Haley
Head Coach
St. Albans Crew


"No doubt about it, Lisa Reed is one of the nation's most gifted personal trainers. Her depth of knowledge of physiology, kinesiology, diet/nutrition and general health is unsurpassed. After a three year hiatus from working out and healthy living; Lisa geared me up to be in peak shape at 41. I have never felt better or looked better and I am having a great time doing it. Inspiring is the word to describe Lisa and I am truly grateful to call her a friend. When I need that occasional pick up Lisa is always there and she knows just how to motivate me. Thanks, Lisa... you're the best!

--George McConnel"


Dear Lisa:

It gives me great pleasure to write a letter of recommendation for you. As you may recall, Wren Cooper and I showed up at the NCS gym--both of us over the age of 75--totally out of shape, but willing to put ourselves in your capable hands. She had been retired for ten years; I was about to retire, but both of us were happy to use the NCS facilities as one of the perquisites of former faculty.

Wren and I were particularly delighted to see the individual care you lavished on us both. Our programs were somewhat different because of previous injuries; however, we were able to work side by side, which was enjoyable, and to encourage one another. At all times you kept an eye on what we were doing and set a pace which was appropriate to our physical abilities. Your lively sense of humor and good-natured banter was a plus in a situation which could have been monotonous. By the time you left NCS my blood pressure had fallen to 124/68 and my combined cholesterol number was 190. Not bad for an old lady!

Both of us are indeed grateful for all of your patient attention to us and wish you well in all of your future endeavors.

-Ruth Ann Williamson (Mrs. David, Jr.)
Bethesda, MD


While I've always enjoyed exercising and maintaining a healthy lifestyle, I was stuck in a rut and was not seeing results. Once I began boot camp group sessions and then periodic strength training sessions with Lisa, I found a renewed excitement for working out and challenging myself to work harder. I definitely saw results, which was reaffirmed by family and friends and gave me additional motivation to try new exercises and approaches to working out.

Lisa is awesome -- she motivates you, pushes you to work harder, and is positive at all times. She listens to your goals and then works with you to help you reach them. And most importantly, you have fun, which makes you excited to be healthy. Lisa also emphasizes how being healthy is working out and nutrition, and finding a realistic balance that will work with your lifestyle and patterns. She is the best!


-Lindy Mochovak
Personal Training Throughout Virginia Including:
Annandale
Arlington
Other Locations Include:
Sterling
Just Some Of Our Maryland Service Locations Include:
Personal Trainers in Ellicott City
Personal Trainers in Gaithersburg
In addition to:
Personal Trainers in Rockville
Personal Trainers in Silver Spring
We also have personal trainers in Pennsylvania. Some of those locations include:
Personal Training in Lancaster