A Letter From the Owner| In-Home Personal Training| Meet Our Personal Trainers| Getting Started ||Free Consultation with a trainer | Contact Us
|Personal Trainer/Owner Eric Leader's Blog Our Mission Pricing Testimonials
Looking For A Personal Trainer in Annapolis, MD?
Are you looking for a personal trainer in Annapolis? Is it time to get in shape? Initiating a program with a personal trainer is the most effective and safe way to reach your goals. Our certified personal trainers in Annapolis will design a workout program specifically tailored and individualized to target your individual needs. We offer fitness programs for people of all ages and fitness levels. If you have a goal, our in home personal trainers can design the program that will help you to achieve that goal quickly and in a safe manner.
At Every Body's Personal Trainer, we have personal trainers in Annapolis, as well as various other locations throughout the county. If you live in Anne Arundel County, no matter whether it's Severna Park, Gambrills, Millersville you name it, you need not look any further for your in home personal trainer. Our fitness pros are among the best in Maryland, and we look forward to serving our clients in the Annapolis area.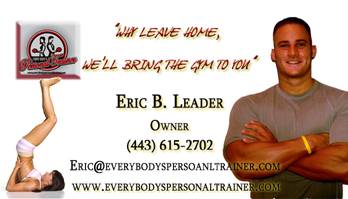 So how do you know if an in-home personal trainer is right for you? We'd love for you to take advantage of our free, no obligation, consultation. We sincerely feel that our trainers can help you achieve your goals, but we want to prove it and earn your business. We take our customer service very seriously, and never take our clients for granted. If you have any thoughts or concerns on how we can improve our service, we would love to hear from you. We are constantly striving to improve and offer the best personal training services in the area, and we would love to hear what you have to say. On behalf of our training staff at Every Body's Personal Trainer, I only have one question for you. "Why leave home, we'll bring the gym to you!"
If you are ready to get started, you can call us anytime at (443) 615-2702. If you'd like to email us with your goals and contact information, you can email us at eric@everybodyspersonaltrainer.com. In addition, you can use the free consultation form below as well. We look forward to hearing from you and helping you achieve your goals.
Below you can view, and read, about our personal trainers in the Annapolis area. Have an in home personal trainer get you into the greatest shape of your life today!!!
Follow Us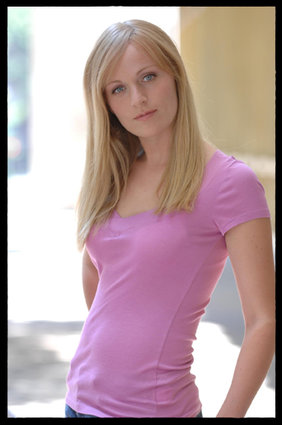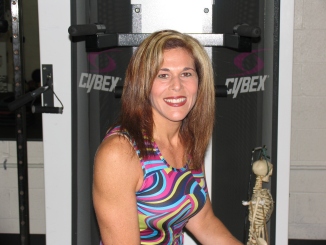 ***Check out Personal Trainer Amy's amazing physique transformation***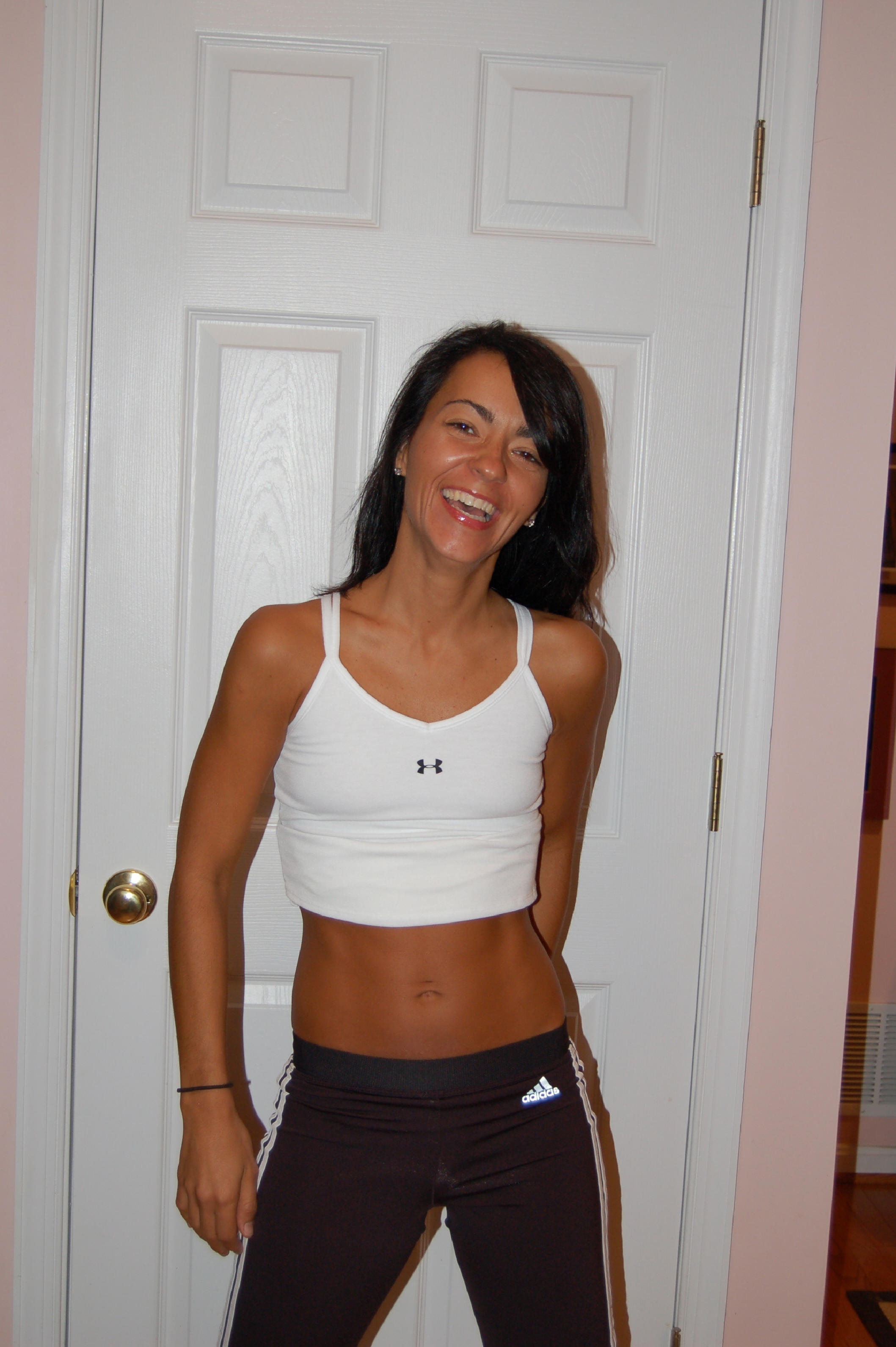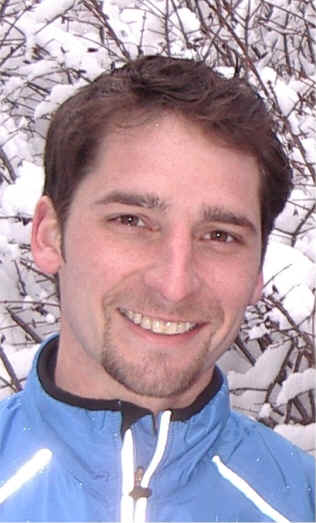 Jeremy B.
Contact Information
Please do not hesitate to contact us if you have any questions at all.
Telephone:

(443) 615-2702

E-mail:
We at Every Body's Personal Trainer would love to help you achieve a healthier and more active lifestyle. Our personal trainers in Annapolis are very passionate about what they do and would love to assist you in making fitness fun and exciting, not just a chore. Our in-home personal trainers will start you off with a free consultation. The consultation is your chance to get to know your trainer, and we recommend having plenty of questions to ask. Our personal trainers are the best of the best, and we want to prove it.
At Every Body's Personal Trainer, many of our staff live in Annapolis. Our in-home personal trainers in Annapolis would love to set you up with a free, no-obligation consultation. So what happens at this consultation with one of our personal trainers in Annapolis?
At the consultation, our instructor will also ask about your current exercise patterns, your goals, as well as your past injuries and areas of concern. Our trainers are here to help, and we want to know everything about you (almost everything :). We consider our clients our friends, and we all have one mutual goal, ACHIEVING RESULTS!!! It doesn't matter when our staff are always there for you. Rain or shine, our in home personal trainers in Annapolis will be at your door, excited to give you a great workout. So let's get started today!!!
Still Confused As To Why Home Personal Trainers In Annapolis Is The Way To Go?
Imagine this for a minute with me. After you get your exercise bag ready, fill up your water bottle, throw on a decent presentable self, drive yourself to the gym, drive back home to get your headphones, drive back to the gym, drive back home to get your towel, drive back to the gym, drive back home to get your water bottle still on the counter, drive back to the gym. Enjoy that 10 minutes you have left in your workout time. This happens to everyone that works out at the gym at one time or another.
The average person spends about 45 minutes going to and from the gym. With in-home personal training, the personal trainer arrives at your door saving you the 45 minutes and the dreaded feeling of looking for your towel soaking wet after that shower at the gym.
How in-home personal training works usually begins with the personal trainer working with whatever fitness equipment you already have laying around the house. The personal trainer can supplement fitness equipment that may be needed
Here are some other benefits of in-home personal training:
* No waiting for equipment
* No filthy equipment
* Awkward looks from "the weird guy"
* It's your music playing
* fewer mirrors (I would hope)
* Same quality of personal training service
* Privacy of your own home
Follow Us
My trainer is the best! She always mixes up our routines to keep me from becoming bored, and sometimes we even incorporate my pool in our activities. Working with a professional is a fun and exciting way to not only get results but to make exercising fun again. I don't feel like I am working out with a stranger, I feel like I am working out with my friend!

Barb Thonen
Annapolis, MD


Finally, my arms and legs are toned and ready for the summer. I know that I owe it all to my trainer who has worked so hard to keep me motivated and on track towards achieving my goals. Having that accountability has worked wonders for me and my body. I just wanted to let you know that I have really enjoyed my program, and thanks so much for all of the help and guidance you have given me.

Beck Yenye

So far this summer, I have been lacking the motivation and energy to workout well. I knew I needed someone to help motivate and push me through my workouts. I have found the greatest trainer, and she works me hard and knows exactly how to motivate me. Thanks for having such great trainers and helping me so much to get through this rut.

I am so tired of feeling bloated and heavy in my clothes and decided that I needed to change. I decided to give up the junk food, and get healthy again. I hired a trainer to get my exercise on track and to make sure that I don't skip my workouts. Coupled with the right diet, I have experienced great results, and I am finally addicted to eating right and exercising.

Sincerely,

Joyce Revelon
Annapolis, MD
Does the Session Have to Be in My Home?
Maybe you don't have a ton of room to workout at home, no problem! Annapolis offers plenty of great parks like Quiet Waters Park, Truxton Park, and Jonas Green Park to name a few. Our staff can meet you at the park with all the equipment needed to give you an amazing workout. Are you ready?
Why An In Home Trainer In Annapolis Works
1.) Intensity, intensity, intensity! To get results, your body needs stimulation to make the adaptations to get you those results you seek. The body needs to be stimulated, it needs intensity to make it reinvent itself and change. Although we try, it's very hard sometimes to train with high intensity by yourself. Have a trainer to work with will help you reach that higher intensity level, and allow you to get those results quicker and easier.

2.) The encouragement received from an in home personal trainer is very motivating. Let's face it, working out can be tough, and sometimes boring. Our fitness pros will be with you every step of the way, encouraging and motivating you to achieve your goals. Do you find yourself too tired to workout sometimes, let our trainers use their energy and enthusiasm to help you through those tough workouts.

3.) Our personal trainers in Annapolis will give you accountability! Do you find that you are missing workouts? The gym isn't going to call you and ask where you are. With an in home personal trainer, you have an appointment. Our fitness pros will be there regardless, no more excuses not to get your workouts in. We'll motivate and give you accountability. Consistency and accountability are so important to overall success.
4.) The knowledge of the personal trainers is very beneficial. How often do you find yourself wondering what to do and where to start? Let our staff take all of the guess-work away, thus preventing wasted time. As the owner of the company, and a personal trainer himself, Eric Leader has taken it upon himself to hire only the best of the best. He has hand-picked the best fitness professionals, with the highest degrees and certifications in the field. Our coaches on staff hold very esteemed certifications from the American Council on Exercise, National Academy of Sports Medicine, American College of Sports Medicine just to name a few.

5.) Safety, and learning how to use correct form while performing exercises. Preventing injury is extremely important, learn how to use correct form and workout safely. I can emphasize enough how important safety is and how valuable working with someone knowledgeable is to helping prevent injury. You may think you're using proper form, but you never know.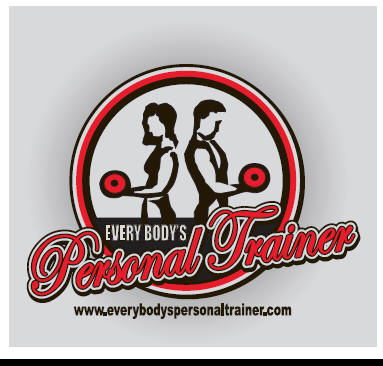 Located 25 miles (40 km) south of Baltimore and 30 miles (48 km) east of Washington D.C., Annapolis is the closest state capital to the national capital.[38]
The city is a part of the Atlantic Coastal Plain, and is relatively flat, with the highest point being only 50 feet (15 m) above sea level.
According to the United States Census Bureau, the city has a total area of 8.10 square miles (20.98 km2), of which 7.18 square miles (18.60 km2) is land and 0.92 square miles (2.38 km2) is water.[2][3]
Annapolis lies within the humid subtropical climate zone (Köppen Cfa), with hot, humid summers, cool winters, and generous precipitation year-round. Low elevation and proximity to the Chesapeake Bay give the area more moderate spring and summertime temperatures and slightly less extreme winter lows than locations further inland, such as Washington, D.C.
Why Use A Home Personal Trainer In Annapolis?
A personal trainer has the following skills:

Knowledge of human anatomy and the concepts of functional exercise, basic nutrition, and basic exercise science

Designing individual and group exercise programs tailored to the needs and attainable goals of specific clients

Conducting and understanding the need and importance of screening and client assessment, initially and progressively

Executing individual fitness program design in a safe and effective way

The desire to help clients reach their health and fitness goals through appropriate cardiovascular, flexibility and resistance exercise

Motivating others to improve their overall fitness and health

A dedication to maintaining personal integrity and your own health and fitness
Have one of Annapolis's best personal trainers work with you in the comfort of your own home. Give us a call today to get started on your path to achieving your goals with one of our in home personal trainers in Annapolis, MD.
Our mission, at Every Body's Personal Trainer, is to provide only the best in fitness training and customer service to our clients. At Every Body's Personal Trainer, our clients are also our friends, and we take our relationship with our clients very seriously.
Let's face it, life isn't easy. We all get tired at the end of the day, and sometimes feel lethargic. At Every Body's Personal Trainer, our mission is to not only educate our clients on how to exercise and eat properly but also to help our clients increase quality of life.
It is my own humble opinion that before you can truly be happy and self-actualized in life, you must first be happy and love yourself. Our personal trainers strive to provide a balanced life that contributes to the individual's long-term physical, intellectual, and social growth. Our training programs encourage individuals from teens through seniors to enhance their levels of strength, endurance, and flexibility, in the most productive, practical, and safest manner possible.
If you are ready to get started, our personal trainers would love to meet you and set up a free, no obligation, consultation. Our trainers want to learn about you, and how we can help you achieve all of your goals. Feel free to contact us any time, and we look forward to assisting you.
Wishing You and Yours the Best of Health!!!!