A Letter From the Owner| In-Home Personal Training| Meet Our Personal Trainers| Getting Started ||Free Consultation with a trainer | Contact Us
|Personal Trainer/Owner Eric Leader's Blog Our Mission Pricing Testimonials Home
In Home Personal Trainers in Annapolis, MD
Get Started with an in home personal trainer in Annapolis
Are you in the market for a personal trainer in Annapolis? Is it time to get in shape and to feel healthier? Initiating a program with an Annapolis personal trainer is the most productive and trustworthy way to attain your health and fitness goals. Our team of certified personal trainers in Annapolis will prescribe a fitness and dietary program that is individualized and customized to meet your particular goals and parameters.
No matter your age or current fitness level, our team of experienced instructors can tailor the program to meet your demands. If you have a goal that you are motivated to reach, our in-home personal trainers in Annapolis can guide you every step of the way to attain that goal swiftly and safely.

Our company consists of personal trainers in Annapolis, as well as multiple other locations throughout Anne Arundel County. If you live in the area, no matter whether it's Severna Park, Gambrills, Millersville, you name it, we have the in-home personal trainer for your needs. Our exercise professionals are among the greatest in Maryland, and we sincerely enjoy serving our clients in the Annapolis area.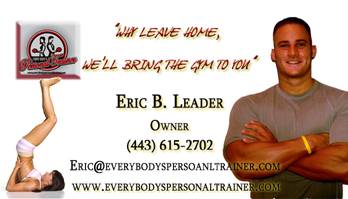 So how do you know if an Annapolis in-home personal trainer is appropriate for you? We sincerely feel that our instructors can help you accomplish your goals, but we want to prove that we are worthy of your hard-earned money, and we prefer to earn your business. Customer service is the cornerstone of our company, and your comfort with our staff is paramount.

At Every Body's Personal Trainer, we are continually aiming to enhance our service and offer the most exceptional personal training services in the area, and we would love to hear your feedback. On behalf of our training staff at Every Body's Personal Trainer, I only have one inquiry for you. "Why leave home, we'll bring the gym to you!"

If you are ready to improve your health and feel better, you can call us anytime at (443) 615-2702. If you'd like to email us with your goals and contact information, you can email us at eric@everybodyspersonaltrainer.com.

We look forward to meeting you and helping you improve your health and fitness!
Below you can view, and read, about the best personal trainers in Annapolis!
Follow Us
The Best Personal Trainers in Annapolis: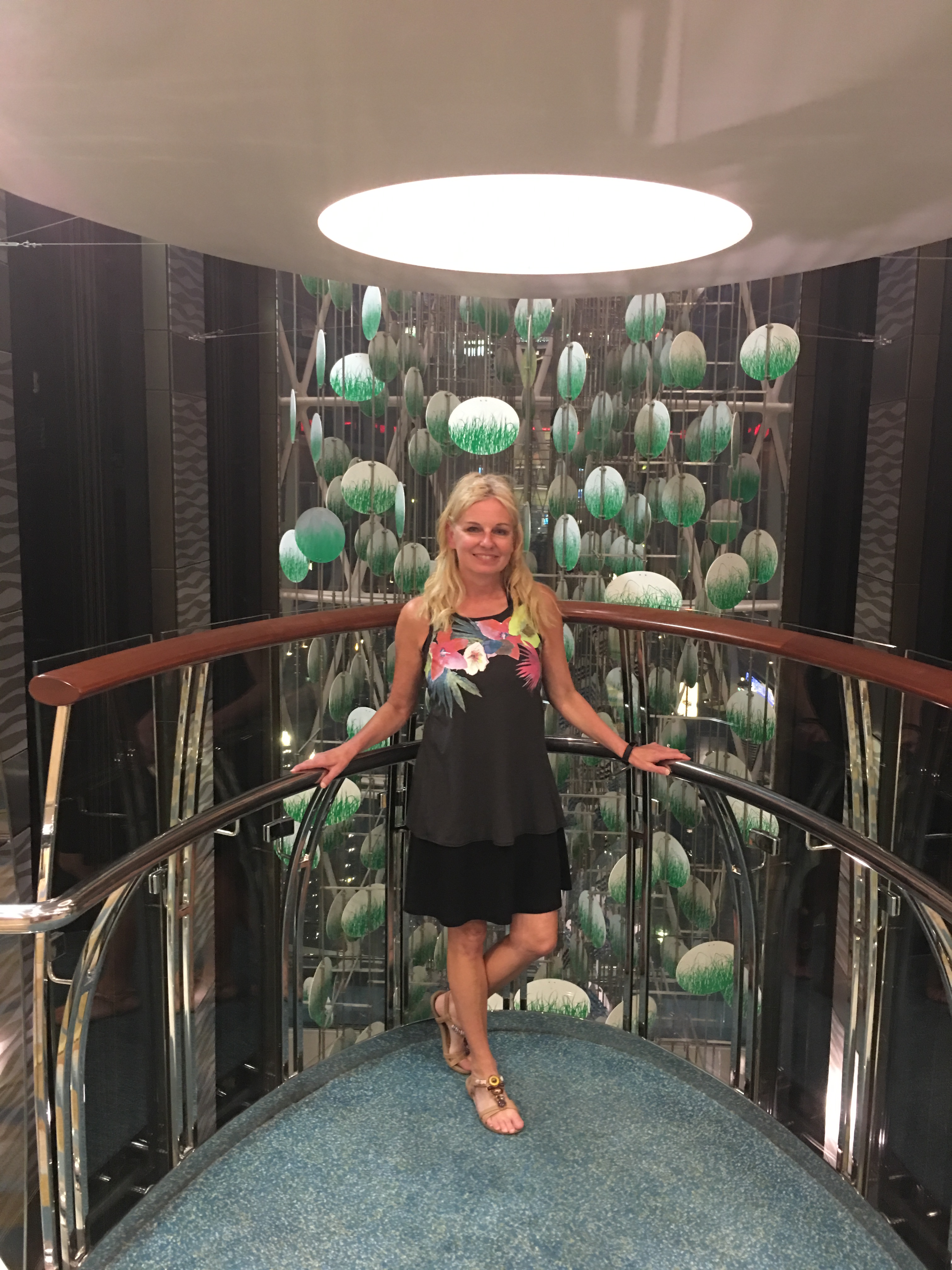 Annapolis personal trainer Suzanne
Suzanne has built quite the reputation for being one of the best personal trainers in Annapolis. She has a vast degree of knowledge and experience to benefit her clients.
Virtual training and in-home personal training available-Annapolis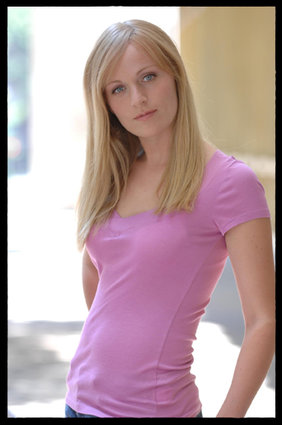 Jamie Knight Jamie is well known for her intense cardiovascular workouts and boot camp style training.
Online and in home training available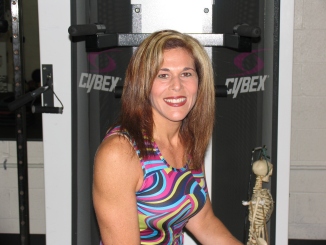 Amy Smullian- Amy is a body transformation coach with extensive knowledge on diet and nutrition.
Online and in-home training available-Annapolis
***Check out Personal Trainer Amy's amazing physique transformation***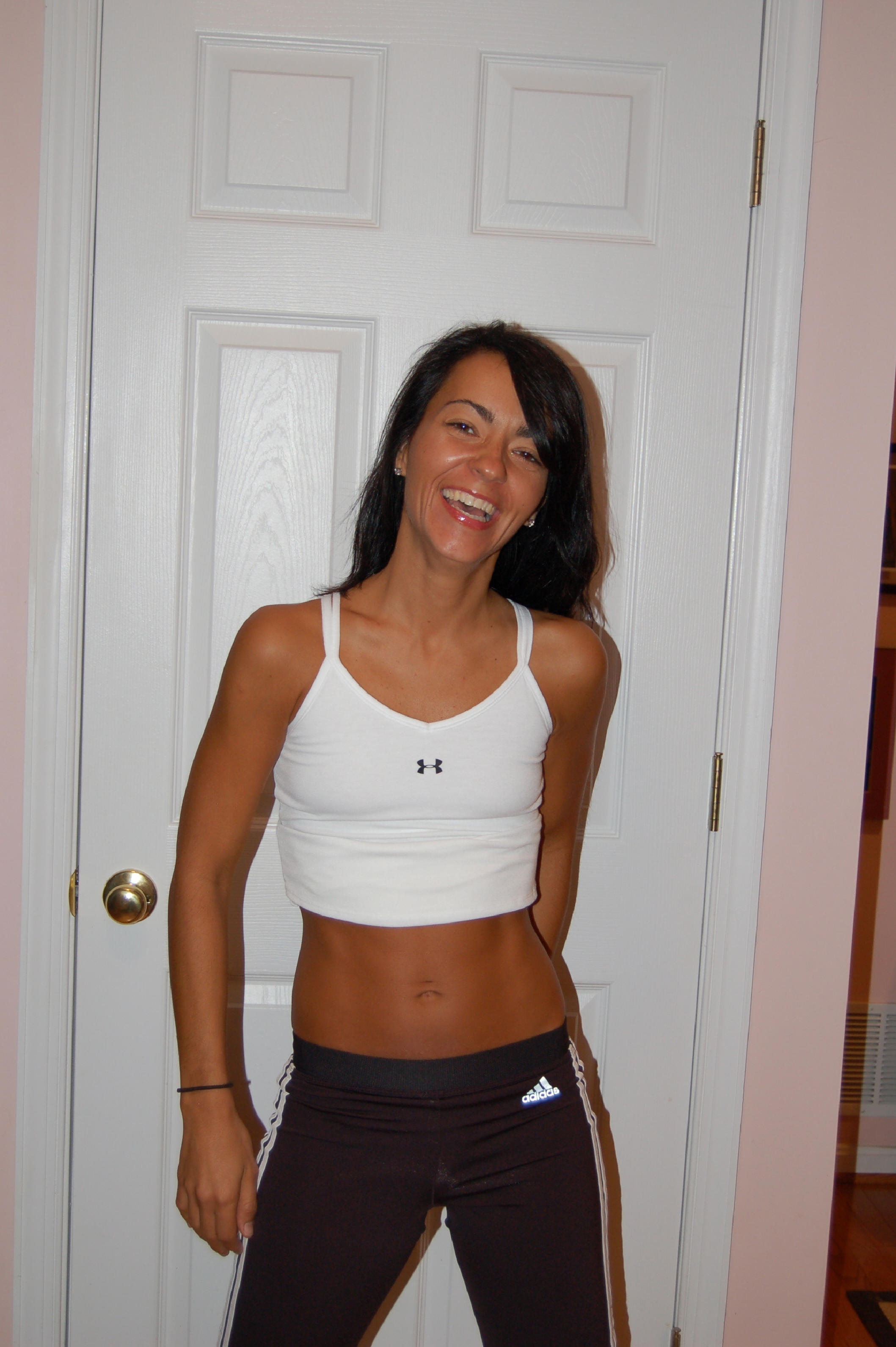 Annapolis Personal Trainer Bernadette Stouten Reputable Annapolis personal trainer and her clients love her high energy personality.
Virtual and in-home training available-Annapolis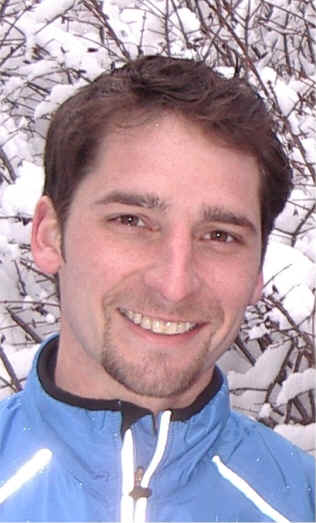 Jeremy B. is very well versed in aerobic conditioning for all age levels as well as weight loss and body fat reduction.
Virtual training available
Free Consultation
Contact Information For Our Personal Trainers in Annapolis
Please do not hesitate to contact us if you have any questions at all.
Telephone:

(443) 615-2702

E-mail:
Frequently Asked Questions
Question. Can my kids' workout with us during our session?
Answer. Of course. We always try to encourage workouts as a family activity that could be healthy and promote fitness and wellbeing for all involved. Studies have shown that children who are exposed to fitness and exercise at an early age tends to adhere to exercise and a healthy lifestyle as they age.

Question. I see that you offer a free consultation. What takes place at the consultation?
Answer. It is imperative for our company that we match you with a personal trainer in Annapolis who is perfect for what you are looking for in your personal trainer. The consultation is a great time to have questions answered, and to get to know your potential instructor. We offer as few or as many meetings as necessary until we find you the perfect match.

Question. How do I get started? What is the best way to reach your company?
Answer. If you are ready to begin, we would love to hear from you and are excited to assist you on your way to achieving your goals. Feel free to call us anytime at 443-615-2702 to schedule your free consultation.

We look forward to working with you and helping you achieve all of your fitness and health goals.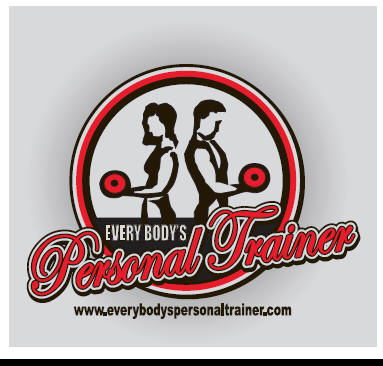 Our fitness instructors are industry experts in:
weight reduction and weight management

body fat and circumference measurements

pre and post-natal exercise prescription
Follow Us
What Are Our Clients Saying?
Due to my anxiety, doing workouts in a gym was never realistic. After finding your company through a Google search, I liked the idea of being able to work out in my home. I can honestly say after utilizing your service for over three months that this was and is the perfect fit for me and my needs. I enjoy the privacy and convenience of being able to workout at home.

Melissa Jadee
Annapolis, Md

My husband and I decided to hire your trainers after New Years. Like so many, we made a New Year's resolution to get into shape and finally get healthy. It's been a few months now, and for once we have accomplished our New Year's resolution. The help and guidance we have received from our coach have been incredible.

Lindsey Arbost
Annapolis, MD

A bunch of mothers in our neighborhood decided to get together and hire a trainer for boot camp. Our instructor comes out twice a week and puts us all through the motions and kicks our behind. We are all so happy after our workout and enjoy the exercise. It is such a morale-boosting experience to workout with my neighbors, and I recommend your service to anybody interested.

Cammi Rose
Annapolis, MD
After having a physical and seeing how much weight I have gained, my doctor has given me an ultimatum to start exercising and eating healthy. Not knowing where to start I thought it best to hire a professional to prescribe me an exercise program and a proper diet. Not only does my trainer come out to my home but he also text messages me on occasion to make sure I am doing okay. This company goes above and beyond the norm, and I appreciate the customer service.

Lea Rain
Annapolis, Md

Trying to give my son an edge we decided to hire a coach to help him with sports and conditioning and his athletic performance. The trainer that we have hired writes him a program that is sport-specific and helps him to increase the musculature needed for his activity. We have noticed significant progress on the field, and we look forward to continuing with the program.

Mike Easton
Annapolis, Md

I have always been in pretty decent shape. However, I wanted to take my fitness to a new level and knew I needed a push. I have always been in pretty decent shape. However, I wanted to take my fitness to a new level and knew I needed a push. I have been feeling stagnant with my current fitness program and decided to enlist the help of a professional to break through a plateau. My coach pushes me very hard, and I enjoy the workouts, and the progress has been fascinating.

Bill Rome
Annapolis, Md

Does the Session Have to Be in My Home?
The Annapolis area consists of excellent parks like, Quiet Waters Park

and Jonas Green Park, to name a few. Our coaches can meet you at the park if you would prefer, with all the equipment necessary to give you a fantastic workout. Are you ready?
Why is In Home Training Beneficial?
Deciding to hire a personal trainer can be a very intimidating proposition. You may even be contemplating whether or not hiring an instructor would be the appropriate decision to help you achieve your goals. Do you need a professional?

For many of us, the thought of exercise is like eating Brussels sprouts. We know that we should exercise; however, the prospect of doing so is not very appetizing. Perhaps you have started a fitness program in the past and failed. Was accountability and consistency your main culprit?

One of the most significant benefits in hiring a certified personal trainer in Annapolis is the accountability that working with somebody can bring to your program. We all have long days and sometimes exercise is pushed on the back burner. Having that someone to stay on top of you and make sure that you are completing your workouts are invaluable.

Maybe you have no idea how to exercise, and fitness is entirely new. With so many different programs, machines, and methods of exercise, it can be very intimidating and baffling. Utilizing a professional trainers knowledge base and experience can save you time and wasted money on ineffective routines and equipment. Our instructors on staff hold very prestigious certifications from the American Council on Exercise, National Academy of Sports Medicine, American College of Sports Medicine just to name a few.

Perhaps safety is a significant concern, and it should be when considering initiating an exercise program. If you are using incorrect form not only will you be wasting your time and not seeing results but injury becomes a genuine dilemma. Nothing is as defeating and upsetting as an injury. Professional instructors, such as our Annapolis personal trainers, can ensure that you are using correct form and technique which will, in turn, manifest quick results and prevent injury.
Benefits Of Hiring a Fitness Coach
Getting in shape can be confusing, especially for those just starting. There are too many variables to account for, and having a trainer to streamline the whole experience is very important.

In the past, that would mean going to a gym, buying a membership, and hiring one of the available trainers.

However, these days, we can enjoy the many benefits of a personal trainer from the comfort of our own homes. In fact, in-home personal training offers additional benefits that make it that much better.


1. It's More Convenient
Many people skip training sessions and dread working out because of the significant inconveniences. Traveling to the gym can be more complicated than the workout itself, especially if you live in a large city and have to battle with the rush hour every day.

Having your training sessions at home is an excellent solution because you eliminate the burden of battling traffic and worrying about losing personal training time you've paid for committing.

Another significant benefit is that you eliminate the most challenging part of any task - starting. You see, more often than not, we have a hard time getting started, but once we do that, it tends to get much easier. Our motivation goes up, and it's easy, effortless even to finish.

Having your trainer come to your house makes it much easier to get started - you've got no excuses not to.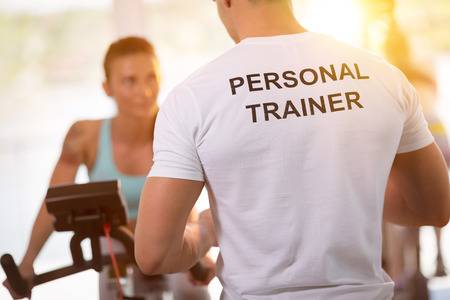 2. Your Workouts Can Be Just As Effective

Many people are under the impression that they need lots of equipment to train effectively. After all, why are there so many types of machines and fitness accessories in most gyms?

The truth is, with a bit of creativity, you can have amazing workouts with little equipment. You don't need multiple machines to train your chest, back, or legs. Basic items such as a barbell, some dumbbells, kettlebells, and a couple of bands can do wonders.


3. You Have Comfort and Privacy

Let's face it:

The gym can be an intimidating place, especially for newcomers. Working out and getting in shape can feel incredibly confusing and difficult.

Having lots of people around you while you are learning new movements and are awkwardly navigating through the gym is a big reason why many people give up early.

However, if you train at home, all of that is forgotten. You get to learn the different (and sometimes complex) exercises, and you can push yourself hard without worrying.


4. You Are Kept Accountable

One of the most excellent benefits of having an Annapolis personal trainer - at home or in the gym - is that they keep you accountable. However, an in-home trainer takes it a step further:

Whether you feel like working out or not, they'll be at your door, waiting for you to let them in. Calling in sick or making a stupid excuse is not as easy, and you're much more likely to follow through.

This might not sound like a benefit, because there's some pressure, but the accountability helps you develop the habit of exercising. It may be uncomfortable initially, but after a couple of weeks, you'll be looking forward to your training sessions.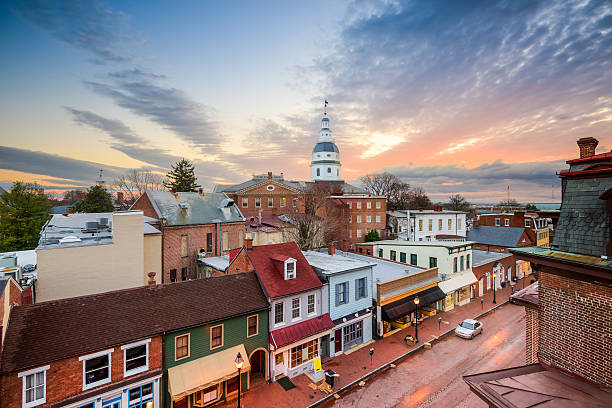 5. It's Cheaper

Having a personal trainer come to your home might sound like a luxury you can do without, but if you think about it, it comes out to be the cheaper option.

Between the annual gym membership, transportation cost, time spent commuting, and the maintenance fees some gyms charge, having an in-home trainer is much cheaper in the long run.

Not only do you end up spending less money, but you also free up more time to spend with your family, finish home chores, work on projects, or enjoy some Netflix in the evening.


6. You Don't Have to Battle For Equipment

Working out in a crowded gym can be irritating. You need to battle for every piece of equipment, you need to wait and work in with other people, and whatever type of equipment you do manage to secure, you have to defend with your life because someone will probably come and snatch it up without asking.

Rather than spend the time you've paid for productively, you have to wait around for equipment to free up as your time slowly passes.

At home, that's not a problem. You can have shorter and more efficient workouts, and you can prepare your equipment for various exercises ahead of time. No pressure, no worries.
How Can Exercise Help?
1. It Improves Our Cardiovascular Health
A whole body of medical literature, dating back since the 1970s, suggests that leading an inactive lifestyle is the single most significant contributor to cardiovascular disease.
Moreover, regular exercise has been shown to deliver many incredible benefits in the face of a reduction in LDL (bad) cholesterol, improvement in insulin sensitivity, and the treatment of high blood pressure.

Perhaps even more importantly, exercise strengthens the heart itself, which allows it to pump the same amount of blood throughout the body with fewer beats.
2. It Helps With Skin Health
"Exercise keeps you young." - a common saying that holds much truth to it.
You see, skin health (and its appearance) is heavily impacted by the amount of oxidative stress within the body.
Oxidative stress is a measure of the damage free radicals do to our cells. This damage can deteriorate the structure of skin cells and cause external issues.
Also, while exercise can lead to more oxidative stress when overdone, moderate-intensity exercise has been shown to help in the production of antioxidants that help protect the cells within the body.

Moreover, exercise improves blood flow within the body, which has been shown to positively impacts our skin cells and helps delay the aging process.
3. It Helps Us Lose Weight
Weight loss can be a challenge for many, but exercise has repeatedly been shown to make it much more manageable.
First, to lose weight, we need to burn more calories than we consume every day. This forces the body to burn fat (and some muscle) to meet its calorie demands. Exercise burns calories, which helps us create the caloric deficit needed.

Second, exercise has been shown to help regulate our appetite and naturally lower our body weight set point.
4. It Improves Gut Health and Food Digestion
Though many people don't take it too seriously, our gut health is at the center of everything. It impacts a range of processes and systems within the body, including our hormonal balance, mental well-being, brain function, and metabolism.

What's interesting is that exercise has been shown to help improve our gut flora, aid in food digestion, and can have a protective effect of the GI tract.
Moreover, research has found a strong correlation between the activity level of a person and their microbiota composition and diversity.
5. It Improves Brain Health and Cognitive Function
Exercise has been shown to improve cognitive function, ability to focus, and memory. There are likely many mechanisms at play here, but there are two major ones:

First, exercise increases the blood flow to the brain. This allows the brain to soak up more oxygen and nutrient-rich blood, which is vital for its normal functioning and development.
Second, regular exercise has been shown to stimulate the hippocampus to grow in size. This small area of the brain is responsible for things like memory (short and long-term), decision-making, and the ability to navigate.
6. It May Prevent Some Cancers
We've been seeing more and more papers on cancer prevention in recent years, and research has been suggesting that exercise plays a vital role in that.
A notable study from 2016 suggests that regular exercise may prevent the development of over a dozen cancer types - namely of the colon, kidneys, liver, stomach, rectum, breasts, lungs, and bladder. However, that's not all. Exercise has also been shown to help prevent leukemia and cancers of the blood, esophagus, and endometrium.
7. It Increases Life Expectancy
Research here is still a bit scarce, but the overwhelming amount of evidence suggests that regular exercise is the single most significant predictor of life expectancy.
Thanks to the incredible benefits - weight loss, cardiovascular health, gut health, brain health, improved cognition, the prevention of certain cancers, and the maintenance of a healthy metabolism - one wouldn't be wrong to assume that, when put together, these factors prolong our lives.
Annapolis, MD Nearby Locations:
Columbia
We also train in the following locations:
Annandale
Other Locations Include:
Every Body's Personal Trainer
Phone Number: (443) 615-2702
Email: eric@everybodyspersonaltrainer.com
Hours:
Monday 5AM–9PM
Tuesday 5AM–9PM
Wednesday 5AM–9PM
Thursday 5AM–9PM
Friday 5AM–9PM
Saturday 9AM–9PM
Sunday Closed