A Letter From the Owner| In-Home Personal Training| Meet Our Personal Trainers| Getting Started || Free Consultation with a trainer | Contact Us
|Personal Trainer/Owner Eric Leader's Blog Our Mission Pricing Testimonials Homepage
Looking For Personal Trainers in Centreville, Virginia?
Are you researching personal trainers in Centreville? Are you ready to get back into shape and make your health a priority? If so, our in-home personal trainers in Centreville would love to meet you. Our staff will deliver the equipment needed to give you a fantastic workout at the leisure of your home. Not only that, but our sessions can run as little as $55 per hour, so no more paying so much for your sessions! We would love to hear from you, and we look forward to getting you started on your way to accomplishing your goals with one of our personal trainers in Centreville.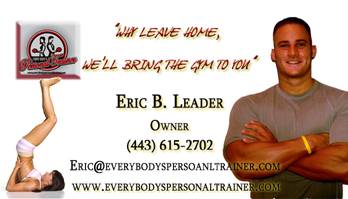 We know that you might still have questions to be answered so we would love for you to take advantage of our complimentary, no obligation, consultation. We genuinely feel that our coaches can help you accomplish your goals, but we want to prove it and merit your business. We take our customer service very seriously, and never take our clients for granted. If you have any feelings or concerns about how we can enhance our service, we would love to hear from you. We are continually striving to develop and offer the best fitness training services in the area, and we would like to listen to what you have to say. On behalf of our training staff at Every Body's Personal Trainer, I only have one question for you. "Why leave home, we'll bring the gym to you!"

If you are eager to get started, you can call us anytime at (443) 615-2702. If you'd like to email us with your goals and contact information, you can email us at eric@everybodyspersonaltrainer.com.

We look forward to hearing from you and helping you achieve your goals.
Follow Us
The Following Are Our Personal Trainers in Centreville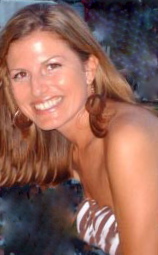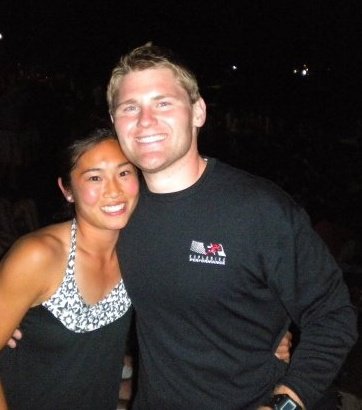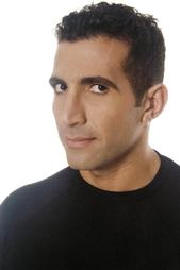 Richard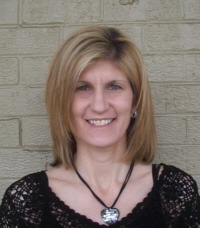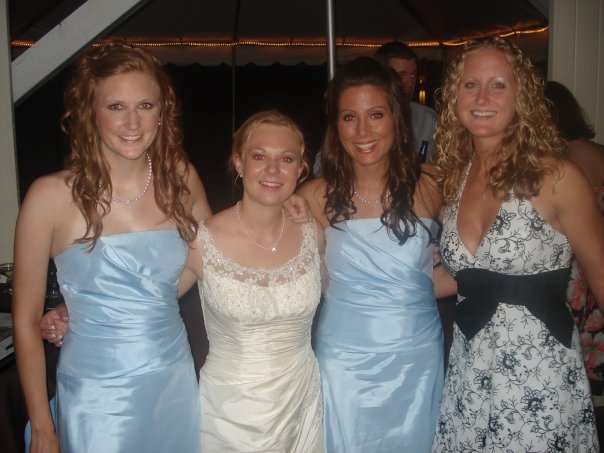 Ashley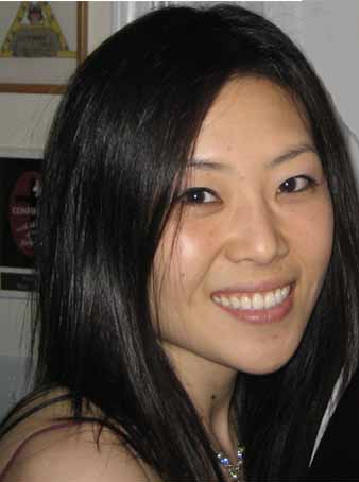 Haejin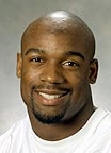 Tyronne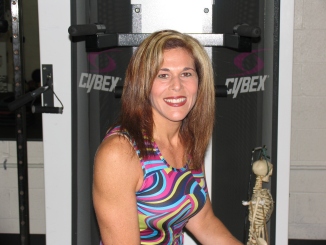 ***Check out Personal Trainer Amy's amazing physique transformation***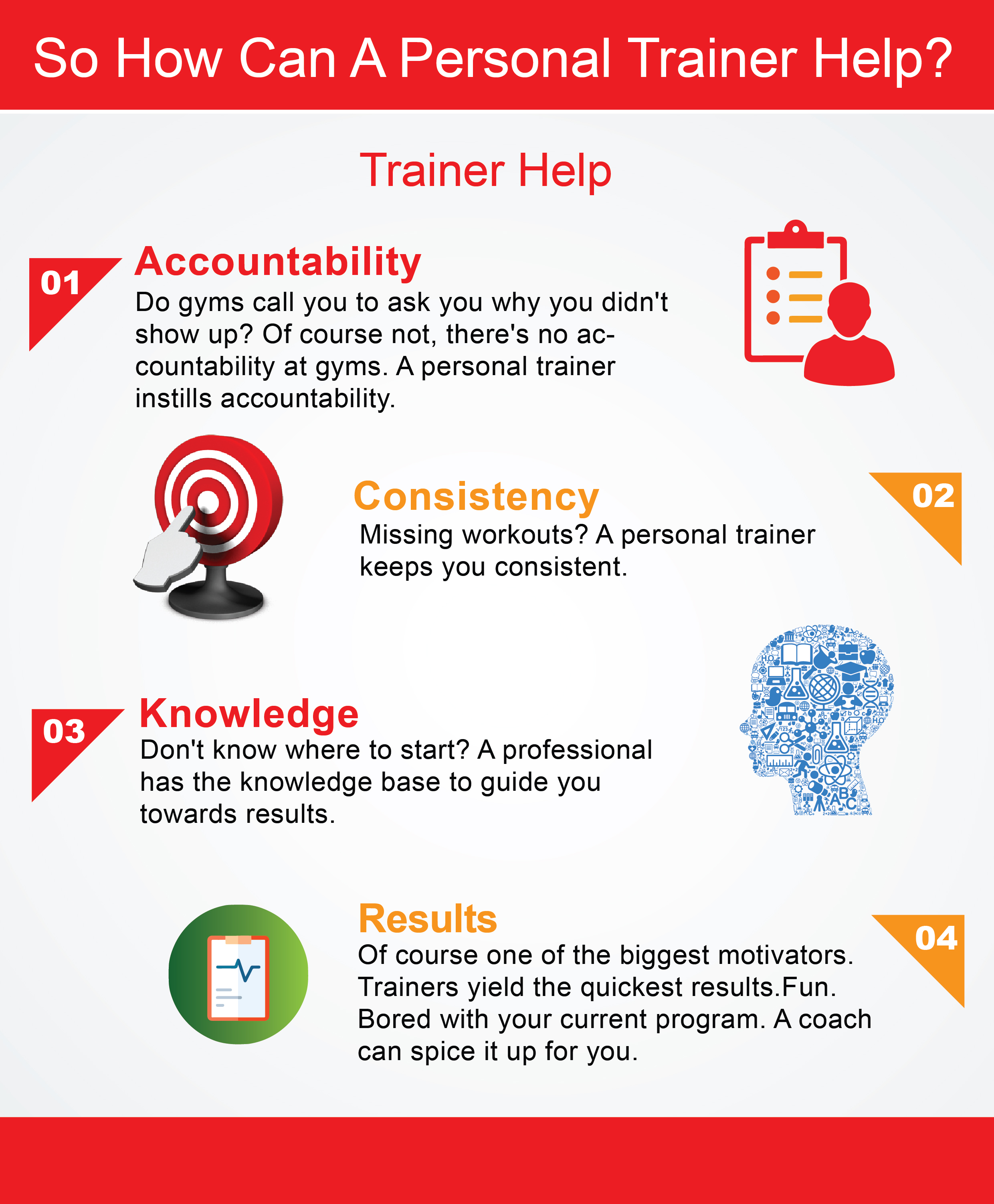 Have an in-home personal trainer work with you to achieve your goals in your very own home. Feel free to contact us at Every Body's Personal Trainer at any time:
Contact Information
Please do not hesitate to contact us if you have any questions at all.
Telephone:

(443) 615-2702

E-mail :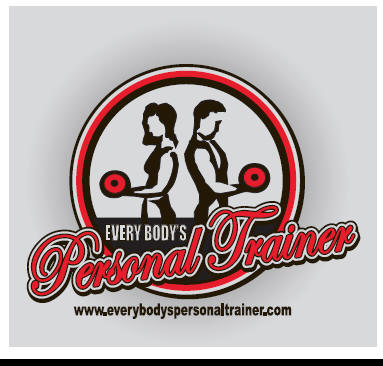 Do The Sessions Have to Be in My Home?

Maybe you don't have a ton of room to workout at home, no problem! Centreville offers plenty of great parks like Elanor C. Lawrence Park, Virginia Chase County Park, and Challet Woods Park to name a few. Our staff can meet you at the park with all the equipment needed to give you an amazing workout. Are you ready?

Why Every Body's Personal Trainer?
You may be wondering why an instructor would be beneficial? Is it worthy of your investment and what are the benefits of working with a coach? Let's take a look.

Without a doubt one of the most significant reasons to work with a coach is accountability. So many of our clients have had or currently have gym memberships, however, don't end up getting to the gym. Regrettably, the gym will not call you and ask you where you are, so there is no culpability. When you work with an in-home trainer, your sessions will be appointment based, so you know you'll perform your workouts. You have accountability.

Education is another principal reason to utilize a fitness professional. Our staff has the highest end degrees in the fitness industry. Our clients can rest assured that they are working with a professional who knows and has learned about all the latest and most current techniques and routines in the industry. Without the proper education, it is very likely that you will not see the results you desire. Some of our staff certifications include the American Council on Exercise, National Academy of Sports Medicine, American College of Sports Medicine

Consistency is another major reason to utilize a fitness instructor. Our bodies thrive on consistency and without consistent workouts, you will never see the results that you were looking to achieve. It's effortless to have a good week and then a bad week, a good week and later another bad week. We are all human. However, when you work with a personal trainer, they will keep you consistent and accountable.

Safety, of course, is a significant reason to utilize a professional. Sometimes we forget that exercise can be dangerous and could cause injury. Injuries are always a setback that will hinder you from achieving your goals. Not only that but rehabbing injuries could take a good deal of time and sometimes never fully recover. When you work with a professional, they will make sure that you're using proper form and technique for prevention of injury. Safety is vital.

Results are extremely important in keeping you motivated and increasing exercise adherence. We all want to see results and without results, we lose motivation. By working with a personal trainer they will fine-tune your program and make it optimal and efficient which will yield quicker and more immediate results. And results leads to motivation and adherence.

So as you can see from the reasons listed above working with a personal trainer is very beneficial. If you would like to schedule a free consultation call us today at 443-615-2702 to get started.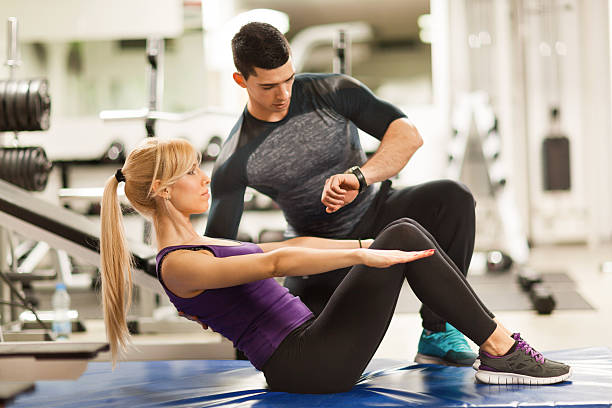 Some Fun Fact about Centreville for kids!
Many of our clients with kids in Centreville know how hard it can be to keep them entertained, especially in the summer. Here are some cool ideas.

Don't forget about those dinosaurs in Virginia with Dinosaur Land, or true hair-raising thrills with Kings Dominion. Kids can cool down at MANY water parks like Splashdown, and the retro Water Country USA. Animals? Of course, they have those! Virginia Safari Park is the ONLY drive-through zoo in the state, and they have zoos galore.

Hit the water with Bay Country Kayaking, or why not through a bit of learning fun in there with museums like Virginia Air and Space Center and the fascinating Frontier Culture Museum.

Moreover, of course, the incredible wilderness! See it from new heights with Vertical Rock Climbing, or explore the state parks like Pocahontas State Park packed with incredible activities. Did we mention you can also trek with Llamas? Check out Twin creeks Llama Trekking!

There are so many fun things to do in Virginia, and chances are you will be extending your family days out for much longer adventures! Donít say we didnít warn you!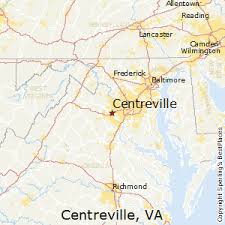 What Our Clients Are Saying:

Hey Eric,

I just wanted to drop you a note to let you know how I am doing. Since we began training two months ago, I have lost 12 pounds, and three inches on my waist. I feel so much stronger now, and I no longer feel winded walking up the stairs. Remember when I couldn't even do a push-up? Thanks for all of your patience and constant support. You are very motivating and inspiring. I can't believe I look forward to working out :)

Barbara D.

Centreville, Va



Eric,

I have been through so much over the last two years. After switching jobs and being down in the dumps, I gained so much weight and lost so much confidence. I was really on a downward spiral. I remember when we first met for our free consult. You had all of this energy, and I thought you were going to kill me. I could not have been more wrong. With each workout, you gradually made the exercise tougher, to the point where now I feel like I am in great shape. My self-esteem is so much better now, and I feel great. I consider you not only my trainer but my friend. By the way, I wouldn't say I like lunges...

Robert Gathers

Centreville, Va


Regarding my Training Experience with Eric Leader:

Eric and I have been working together for four months now. We meet for workouts three times a week. As a stay at home mom, I didn't have much flexibility with my schedule and wasn't sure about starting a fitness program. However, I knew I had to change. My cholesterol was measured over 200, and I was considered morbidly obese. I figured I was a lost cause. I tried working out on my own but was too bored. I hate working out. So I just thought I'd give Eric a call. This was the best decision I ever made. I was nervous when we first met. However, Eric is very easy to talk to and makes you feel so relaxed. We started slow, and before I knew it, I was losing weight. It was slow at first, but after four months I have now lost 22 pounds. I even can see muscles for the first time. I have more energy to play with my kids, and I know I owe that all to you Eric. Thanks for all your constant monitoring of me, and my nutrition as well.

Ruth Frederick

Centreville, Va


Who would have thought you could get such a great workout at home? The idea of in-home personal training is so cool...My girlfriends and I were sick of being overweight and sluggish. We felt that by working out together, we would stick to a fitness program better. Having an in-home personal trainer work us out was a great idea. We have so much fun, and the results have been somewhat surprising. I recommend these guys and girls to anyone looking for a fun way to get into shape, even in their very own home!

Shauna Jones

Centreville, Va

In-home personal training versus gym personal training Centreville


You may be asking yourself whether or not in-home personal training is more beneficial than in gym personal training. What are the benefits and how does in-home compare to personal training at a gym? Let's take a look.

With in-home, you don't have to worry about dealing with the traffic and time lost traveling to a gym to work out. Not only that but you save money on gas in addition to the time that you save, time that could be better spent with your family.

Have you seen the locker rooms in gyms? Have you ever laid down in the sweat that is on most benches? When you workout at home you can enjoy the peace and comfort as well as the cleanliness of your environment. No more worrying about germs.

When you work out at the gym, you are confined to the gym space and atmosphere. However, when you work out at home, you can not only use the area in your home, but you can also utilize the space outside as well. Working outside can make working out more enjoyable and prevent monotony especially when training outside on a beautiful day.


If you are like me many times, you feel uncomfortable at the gym and grow weary of what you are wearing your hair, and you feel that sense of gym intimidation. You begin feeling like everybody is looking at you and watching you. By working out at home, you don't have to worry about gym intimidation or how you look, and you can concentrate solely on your workout.

Another common benefit that many of our clients have mentioned is that in-home creates a personal friendship and bond with your trainer that is not experienced in gym training. Many times when you go to the gym to workout with your trainer, due to all the noise and commotion you don't quite get the same intimacy in the session that you do while training at home. Many clients become good friends with their in-home personal trainer and even go as far as inviting them to their children's birthdays.

So as you can see in-home personal training does have many benefits in comparison with gym training.




If you still have questions in regards to fitness training, please take a look at these two great websites:

Have one of Centreville's best personal trainers work with you in the comfort of your own home. Not located in Centreville? We also provide personal trainers in McLean, Alexandria, Arlington, Burke,

personal trainers in Fairfax,

and many other locations throughout Northern Virginia to name a few.

Give us a call today to get started on your path to achieving your goals with one of our in home personal trainers in Centreville, VA.