A Letter From the Owner| In-Home Personal Training| Meet Our Trainers| Getting Started || Free Consultation with a trainer | Contact Us
|Personal Trainer/Owner Eric Leader's Blog Our Mission Pricing Testimonials Homepage
Searching For Personal Trainers in Fairfax?
Are you looking for a personal trainer in Fairfax? Exercising with a fitness professional is the most efficient and dependable way to attain your goals. If you are researching in-home personal trainers in Fairfax County, look no further. Our instructors will implement a fitness program especially to target your specific needs.
We offer private training programs for people of all age demographics and fitness levels. If you have a goal, our personal trainers in Fairfax can create the program that will help you to achieve that goal promptly and thoroughly.

Our instructors will produce the equipment needed to give you a great complete body workout in the luxury of your home. So how about pricing? Stop paying so much for sessions. Our sessions cost as little as $55 per hour! Not being overcharged is essential because you will not receive the results you want in one session, it's going to take a series of good workouts to reach your goals. Our company takes pride in the service we provide, and will never overcharge our clients.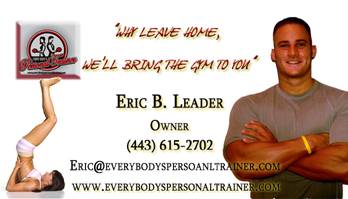 So how do you find the right match for you? We'd love for you to take advantage of our free, no obligation, consultation. We sincerely feel that our trainers can help you accomplish your goals, but we want to prove it and earn your business. We take our customer service very sincerely, and never take our clients for granted. If you have any thoughts or concerns on how we can improve our service, we would love to hear from you. We are continually striving to improve and offer the best personal training services in the area, and we would love to hear what you have to say. On behalf of our training staff at Every Body's Personal Trainer, I only have one question for you. ĒWhy leave home, we'll bring the gym to you!"


If you are ready to get started, you can call us anytime at (443) 615-2702. If you'd like to email us, you can do so at any time. Feel free to email us at eric@everybodyspersonaltrainer.com.
Follow Us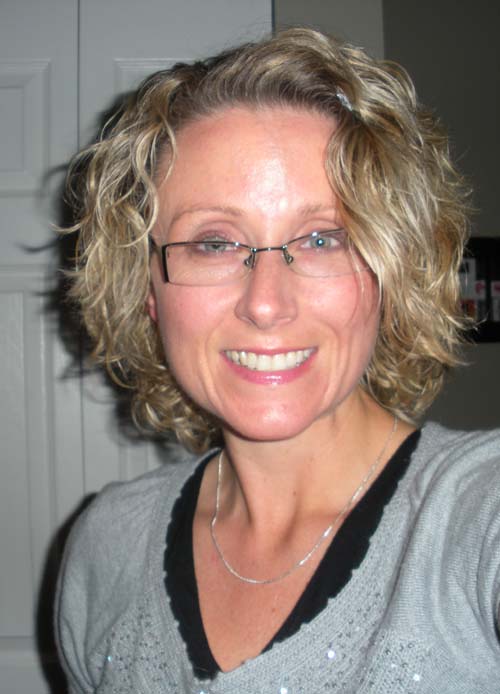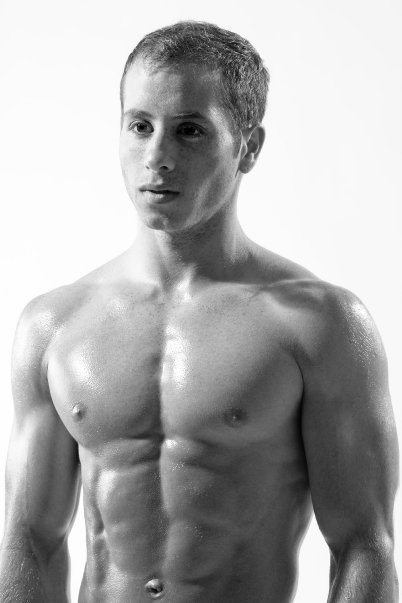 Sean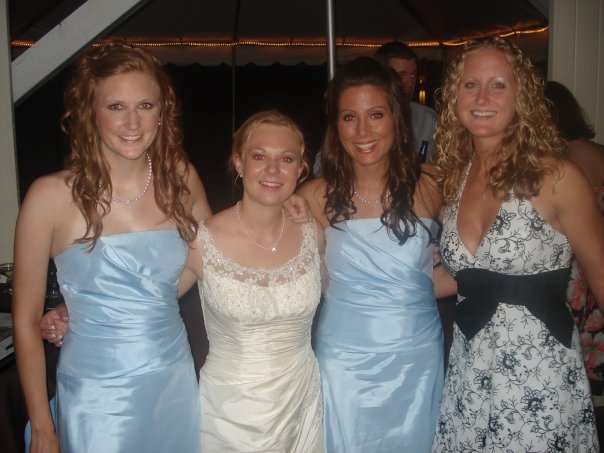 About Our Company
Every Body's Personal Trainer was born based on the premise that our staff of certified fitness professionals could change clients' lives by offering in-home personal training. The dilemma we noticed with traditional personal training is that 1) Time is precious for someone who has a busy life and sometimes exercise can end up on the back burner, and 2) the trainers in most gyms lack the expertise and education to help clients accomplish their goals.

We decided to take a different approach, caring more about the client as an individual than just a number. Our customer service extends to training, nutrition, as well as accountability. Each member of our team builds a personal connection with their client, and this relationship extends to both in and out of each session. We are with you every step of the way on your journey.

So what do our clients have to say about our home personal trainers in Fairfax?
I made a New Year's resolution to get into shape however I underestimated how hard it would be. I didn't know what I was doing, and I was getting nowhere as far as progress goes. I knew I needed to hire someone to show me what to do and help me along my way, so I reached out to Every Body's Personal Trainer. The investment was well worth it, and I have changed so much that friends and family can't believe it. Thanks for all of your help.

Marissa Torres
Fairfax, VA

We were looking for a coach to help our son get faster and stronger for High School lacrosse. We came across your website and decided to give you a call based upon testimonials and what I had heard about your service. The trainer that works with my son has been a perfect fit, and he looks forward to every workout. Thank you so much.

Melissa Reily
Fairfax, VA

We were looking for somebody to work with our father who is in his eighties and trying to maintain strength and functionality. We reached out to your company, and I've been thrilled with the results. Thanks for what you do and we look forward to continuing.

Lisa Rawls
Fairfax, VA

I have worked with coaches in the past but never a coach that cared so much about their client as these guys do. They will text you on off days and follow up with you regularly to make sure that you are accountable to your plan. Most other coaches I have used only cared about you during the session whereas these guys think about you 24/7.

Mark Rodger
Fairfax, VA

Contact Information
Please do not hesitate to contact us if you have any questions at all.
Telephone:

(443) 615-2702

E-mail:
Our Personal Trainers in Fairfax Specialize In:
1. Weight loss and weight reduction
2. muscle hypertrophy and strength
3. nutritional counseling and analysis
4. senior fitness and exercise prescription
5. sport-specific training and athletic training
6. assessments including but not limited to body fat
7. prenatal fitness
8. teenage fitness
9. and many more

So Why Use One Of Our Personal Trainers In Fairfax?
Accountability.
Without suspicion one of the most notable benefits of working with a fitness instructor is accountability. It's simple not to go to the gym and complete your workout. However, the gym won't call you and ask you where you are and why you didn't visit. Therefore there's no liability and
accountability
is needed for results.
Consistency.
When you work with one of our trainers, your sessions will be based on appointment. Therefore you know you will be receiving your workouts. Not only that, but many of our coaches will hold you culpable for being regular with your workouts when not with them. They may text you or even call you to make sure that you got your supplemental workouts done. Being
consistent
is vital.
Knowledge.
Our company only works with the best of the best in the fitness profession. All of our instructors hold distinct degrees and or certifications in the fitness industry. When you team up with a member of our organization, you will be assured that you are working with a specialist who has the insight and expertise to support you in achieving your goals. Our fitness staff holds certifications including the
American Council on Exercise
,
National Academy of Sports Medicine
,
American College of Sports Medicine
, and other high-end industry certifications.
Results.
Let's face it if you aren't recognizing results you are not going to want to proceed. Therefore learning and feeling the results of the fruits of your labor is imperative. When you work with a professional who will fine-tune your plan, you will see
results
a lot quicker and will be more likely to adhere to your plan.
Fun. How many times have you tried to get through a workout and just lost interest or became tired of what you were doing? Many times we tend to do the same kinds of workouts which not only limits us from seeing results but let's face it it's monotonous. Working with a member of our staff they will introduce you to various workout routines and exercises, and you will never be weary of your new routine. They may take you outside, include some boxing cycles, or even meet you at a local park to spice everything up.

So as you can see, there are many benefits to working with a personal trainer in Fairfax. However, we know that you may feel a bit uncertain about getting started. Therefore we would love for you to take advantage of our complimentary, no-obligation consultation with one of our personal trainers in Fairfax. Call us anytime at 443-615-2702 to get started.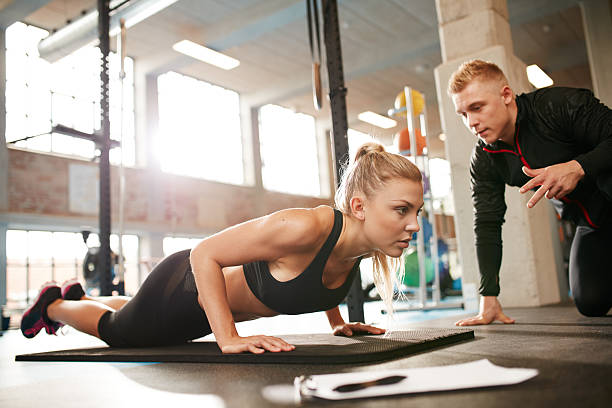 Does the Session Have to Be in My Home?

Maybe you don't have a ton of room to workout at home, no problem! Fairfax offers plenty of great parks like Van Dyck Park, C. Lawrence Park, Daniels Run Park, and Parks and Recreation City of Fairfax to name a few. Our staff can meet you at the park with all the equipment needed to give you an amazing workout. Additionally, many of the apartment and townhouse homes in Fairfax have well-equipped gyms on site. Our instructors could meet you at your apartment gym and be there to give you that great workout. Are you ready?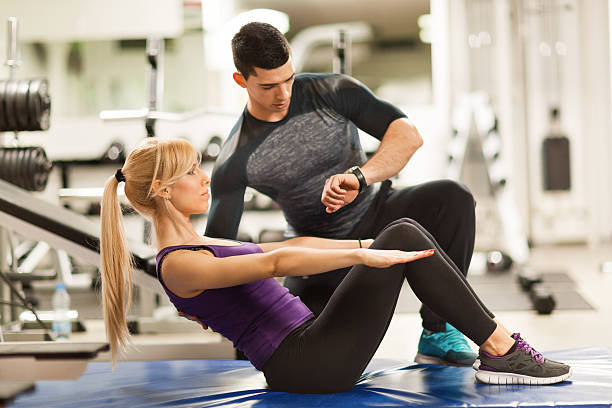 Looking For Some Great Place To Run In Fairfax?



Daniel's Run Park

One of my favorite trails in Fairfax is Daniel's run park located right off main street in Fairfax City. This trail is a great choice for someone that likes the mix of a trail with a little pavement. There are some small hills on the run which brings up your heart rate about 15 extra beats. Daniels run is one of my favorites in the fall when the leaves are to fall from the trees. When you finish the run/walk might enjoy one of the many restaurants surrounding the park.

Burke Lake Park

This is in my top five because of the great scenery that surrounds you as you run. The distance works great if you are training for a race. If you are doing a half or full marathon you can just do some extra laps. One loop is about 4.5 miles, and it is very easy on the joints. The soft trail is very forgiving which feels very nice on the joints. The shade helps to cool you down in the summer, and in the fall the park is absolutely beautiful. Burke Lake is also a great place for a brisk walk.

The Fairfax Cross County Trail

This trail is over 40 miles long and is excellent to train for marathons. This trail connects the entire county from end to end. The trail has a wide variety of terrain, and you might need to get some trail running for this one. The run is beautiful and has some great views to keep you from getting bored. If you need a group to run with contact the pacers running group in Fairfax City. If you need a good distance race this fall check out the Cross County Trail Marathon and half marathon on Nov 11th. For more info check out https://altisendurance.com/events/cross-county-trail-marathon-and-half-marathon.

Not located in Fairfax? We also provide personal training in McLean, Arlington, Alexandria, Tysons Corner, Vienna, and many other locations throughout Northern Virginia.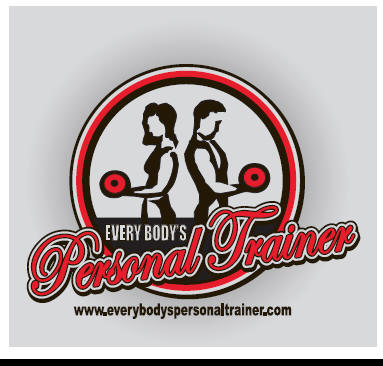 Remember, NEVER give up!

Personal training is all about teamwork. Our team will be with you every step of the way to help you reach your goals. If you are ready, give us a call from the grocery store, your sonís swim meets, etc. and we will be at your service. Your goals are our goals so use our years of expertise and knowledge to your advantage and call us anytime. You will accomplish your goals! Remember, every day you will be taking a step closer to where you want to be, donít give up youíll get there!

Is it time to make a change? Are you sick and tired of feeling sick and tired? Give us a call today at 443-615-2702 and begin your way on the journey to creating a healthier and happy you. Remember, every journey has to start with one single step. You can achieve your goals, and we'll be with you every step of the way to get you there!

Check out these comprehensive resources for more info:
Follow Us