A Letter From the Owner| In-Home Personal Training| Meet Our Personal Trainers| Getting Started ||Free Consultation with a trainer | Contact Us
|Personal Trainer/Owner Eric Leader's Blog Our Mission In-Home Personal Training Benefits of In Home Personal Training Pricing Testimonials
Searching For Personal Trainers in Leesburg, VA?
In response to COVID-19, virtual personal training is now available!
Are you looking for personal trainers in Leesburg? Well if you are, I am glad you found us, we have the best personal trainers in Leesburg. However what exactly is in-home personal training?
Well rather than going to the gym to workout or to meet with your personal trainer, our personal trainers in Leesburg will bring all the equipment to your home, office, or local park, ready to give you a workout. Yes, we bring the gym to you! No more waiting on equipment in crowded smelly gyms, you can finally work out with a professional in the convenience of your very own home. Our staff works with clients of all fitness levels and ages from teenagers all the way up to seniors and we would love to help you achieve your goals.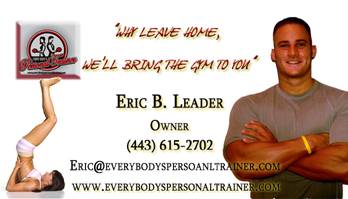 We know that you may have questions prior to working with a trainer, therefore we always offer a free, no-obligation consultation with one of our staff. We want to make sure you have all of your questions answered and so that you feel confident in initiating your program. Our in home personal trainers in Leesburg are the best of the best but we want to prove it.

Feel free to call us anytime at 443-615-2702 to schedule your free consultation today with one of our in-home personal trainers in Leesburg. We look forward to meeting you.


Follow Us


Below you can view, and read, about our personal trainers in Leesburg. Have an in home personal trainer get you into the greatest shape of your life today!!!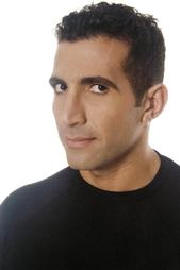 Richard Ghoneim Virtual training available.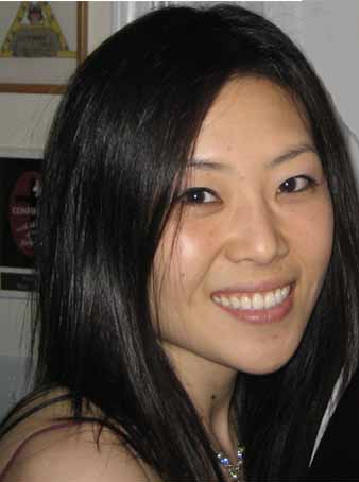 Haejin Kim Virtual training available.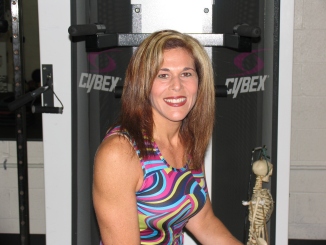 Amy is an in home personal trainer in Leesburg. ***Check out Personal Trainer Amy's amazing physique transformation**
Contact Information
Please do not hesitate to contact us if you have any questions at all.
Telephone:

(443) 615-2702

E-mail :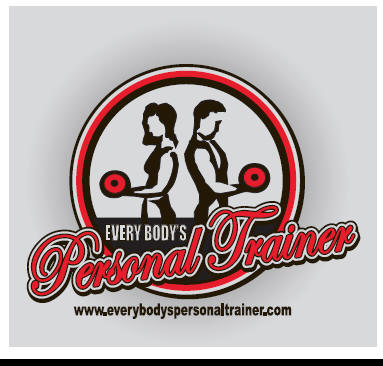 Our Leesburg personal trainers are experts in:
Weight reduction and body composition
strength gain and muscular endurance
Women's Health and Fitness
Men's Health and Fitness
young teen exercise prescription
senior Fitness
rehab exercise prescription
athletic training and sports conditioning
and many more
"Leesburg's Best In Home Personal Trainers"
1). Achieving the kind of intensity experienced with a personal trainer is very hard to attain while training alone.

2). The encouragement received from a trainer is very motivating. We'll be there for you every step of the way, encouraging and motivating you each step of the way.

3.) Accountability!!! How easy is it to miss workouts, not with a trainer, we'll keep you on the right path.

4.) The knowledge of the personal trainers is very beneficial. We hire only the best and brightest in the field.

5.) Safety, and learning how to use correct form while performing exercises. It's very important to be careful while exercising. Injuries can derail your progress and be a source of great frustration.

6.) Our personal trainers in Leesburg will make you do cardio!!! It's important to be healthy inside and out. Cardio will help keep you body healthy internally, and looking great externally.

7.) Programs are tailored to the client's specific needs and wants. Programs have to be individualized, it's the only way to see results. No cookie cutter programs here.

8.) With our personal trainers, results come a lot quicker. Who wants to waste time working out and not seeing results. With a trainer, you'll see results quicker and we'll keep you motivated with the way you look and feel.

9.) Working with a trainer prevents against wasted time in the gym trying to achieve goals.

10.) It's fun!!! It has to be, if it's not fun, who wants to do it?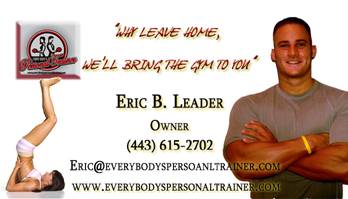 How Can a Leesburg Personal Trainer Help?
So you may be asking yourself why is personal training beneficial? Well here are some ways personal training can benefit you and help you to achieve your goals.

Accountability. Let's face it at the end of the day if you don't make it to the gym the gym is not going to call you and ask you where you are. Therefore there is no accountability. With in-home personal training, your sessions are appointment based that way you know you'll be getting your workouts in. Therefore you have accountability.


Consistency. One of the key factors in achieving results is consistency. Our body thrives on constant and regular exercise and nutrition, and without such consistency, it is virtually impossible to see results. By working with a personal trainer they will ensure that there is consistency in your workout routine.


Knowledge. Have you ever walked into a gym and wondered what you're supposed to be doing? Well, you're not alone. There are so many different exercises and theories on how to work out and get in shape it's hard to determine what is the best path and most efficient. When working with a highly knowledgeable and educated personal trainer, you can rely on their knowledge in formulating a detailed and specific exercise plan individually tailored to help you achieve your goals.


Results. By working with a coach, results without a doubt will come a lot quicker. What is more motivating than results? Once you start feeling and looking better, exercise becomes a lot easier and adherence to your program becomes much less a chore.


Safety. Sometimes we forget that working out and exercising could actually be harmful and dangerous if not done correctly. When you work with a fitness instructor they will ensure that you have proper form and technique not only targeting the muscles more efficiently but preventing injury and subsequent health concerns.

So as you can see from the benefits listed above, working with a personal trainer certainly has many important benefits to you the client.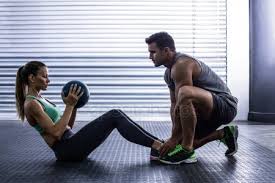 What Are Clients Saying About Our Personal Trainers in Leesburg?
I struggle with depression and anxiety so exercise and proper nutrition have become more important to me now than ever. Not knowing how to devise a good fitness plan or exercise plan I knew I needed the help of somebody who had the knowledge to do such programming. I came across your company on Google so I felt after reading the information that this service that you provide could benefit me greatly. I have now been working with your staff for over 4 months and feel so much better. Thank you for all of the guidance you have provided.

EJ Ceen
Leesburg, Va

Exercise is not easy and has never been fun or something that I wanted to participate in doing. However, now that I have gotten older, my body doesn't feel the same and I know I need to start becoming healthier and fitter as I age. A friend of mine gave me your number and said that you all are very easy to work with and friendly which is exactly what I needed. I have been working out two times a week for a while now and at first, I didn't see much but now I feel so much better.

Erika Showe
Leesburg, Va

In my college days, I was in great shape but as I've gotten older and began my career exercise and nutrition, of course, have been on the back burner. I have gained a lot of weight around the middle and seeing myself in photos has been traumatic. I wanted to make a change and was finally ready. I gave you guys a call about two months ago and I am so happy that I did. Thank you for always being just a phone call away or an email away and for not getting frustrated with me and my constant calls.

Jill Elle
Leesburg, Va
If you still have questions in regards to personal training please take a look at these two great websites: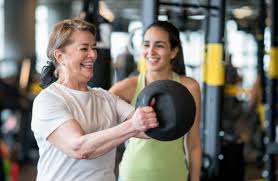 Have one of Leesburg's best personal trainers work with you in the comfort of your own home. Our personal trainers in Leesburg, Virginia will bring the equipment necessary to give you a great total body workout in the convenience of your home. Give us a call today to get started on your path to achieving your goals with one of our in home personal trainers in Leesburg, VA.
Leesburg, VA Nearby Locations:
Annandale
Other Locations Include:
Columbia
Every Body's Personal Trainer
Phone Number: (443) 615-2702
Email: eric@everybodyspersonaltrainer.com
Hours:
Monday 5AM–9PM
Tuesday 5AM–9PM
Wednesday 5AM–9PM
Thursday 5AM–9PM
Friday 5AM–9PM
Saturday 9AM–9PM
Sunday Closed