In Home Personal Trainer Lisa Reed
Lisa is an in-home personal trainer in Alexandria, Arlington, Fairfax, Tyson's Corner, Vienna, McLean, Northern Virginia, and some parts of Loudoun County and Fairfax County.
<![if !vml]>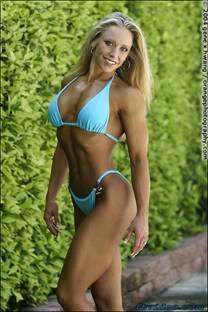 <![endif]>
Personal Trainer Specializing In:
| | |
| --- | --- |
| | Weight Loss |
| | Sport Specific Training |
| | Body Sculpting |
| | Muscle Building |
| | Resistance Training |
| | Cardiovascular Training |
| | Balance & Flexibility Training |
| | Body Fat Analysis |
| | Nutrition |
| | In home personal training |
Service Areas:

Lisa is an in-home personal trainer in Alexandria, Arlington, Fairfax, Tyson's Corner, Vienna, McLean, Northern Virginia, and some parts of Loudoun County and Fairfax County.

Master of Science in Exercise Physiology

Illinois State University, Normal, Illinois; May 1998

Research symposium and published abstract: "The Effects of Creatine Supplementation Upon Skeletal Muscle and Exercise Performance."

Bachelor of Science in Physical Education, Concentration in Commercial Fitness

Radford University, Radford, Virginia; May 1996

Gymnastics scholarship recipient; NIT All-American balance beam 1992; team captain 1994 -1995.

· NSCA-Certified National Strength and Conditioning Specialist and Member, 1995 to present

·

USA Weightlifting Club Coach Certification and Member, March 1998 to present

· Certified by the American Red Cross in Standard First Aid and CPR, plus AED

· Volunteer, Arlington County, Virginia: Virginia Tech Cooperative Extension: Nutrition & Active Aging Classes. August 2007-present

· George Washington University Adjunct Professor, Fall 2006.

· Nominee for NSCA High School Strength Coach of the Year, 2006.

· Power-Systems: spokesperson and presenter, January 2006-present.

· Team MET-Rx athlete, model and representative, January 2001- present.

· International Federation of Bodybuilding & Fitness, 2002 Olympia Competitor.

· IFBB Fitness Professional: Second place, Atlantic States Pro Fitness, New York, June 2002.

· USA Nationals Fitness Champion, Las Vegas, Nevada, August 2000.

· Jan Tana NPC Fitness Classic: Overall Fitness and Physique Champion, Virginia, July 2000.

· Mid Florida NPC Classic: Overall Fitness and Physique Champion, Florida, June 2000.

· World Tri-Fitness Challenge: Fitness and bench press Champion, Florida, June 2000.

· Fitness America: Overall Fitness and Physique Champion, Florida, Oct.1999

More Honors:

IFBB Jan Tana Classic, Charlotte, NC, August 15, 2004. 2nd place physique, 5th place overall
| | |
| --- | --- |
| | IFBB Arnold Classic, Columbus, OH, March 3, 2004. Eleventh Place. |
| | IFBB GNC Fitness Classic, New Orleans, LA, Nov 8, 2002. Ninth Place. |
| | IFBB Fitness Olympia, Las Vegas, NV, Oct 17, 2002. Fourteenth Place in the world. |
| | IFBB Atlantic States Pro Fitness, NY, NY, June 8, 2002. Second place: Fitness Olympia Qualifier! |
| | IFBB Canada Pro Fitness, Toronto, CAN May 25, 2002. Fifth place. |
| | USA NPC Nationals Middle Class Fitness Champion, Las Vegas, Nevada, Aug.4-5, 2000. Pro Qualifier! |
| | Jan Tana NPC Fitness Classic Overall Champion, Roanoke, Virginia, July 15, 2000 . First place; two piece, one piece & fitness. |
| | Mid Florida NPC Classic , Orlando , Florida , June17, 2000. First place overall, first place two piece, one piece swimsuit & fitness. |
| | World Tri-Fitness Challenge, Tampa, Florida, June 10, 2000. First place fitness overall, first place bench press overall (60% of body weight=55 reps!), physique age 25-29-above 5'4", third physique overall. |
| | Fitness America Florida Champion, Tampa, Florida. October 2, 1999. First place fitness & swimsuit. |
| | NIT All-American Balance Beam-Radford University 1992 |
| | |
About Personal Trainer Lisa: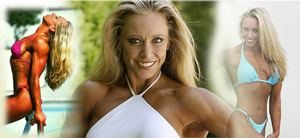 Growing up as an athlete in an athletic family, I started ballet and tap dancing when I was only four years old, and gymnastics at age seven. I also ran track (100 and 200 meters and long jump), going to the AAU Regionals at age 12, and competed in the Empire State Games in diving when I was 13.

Though actually a better diver than gymnast, gymnastics was my passion. At age 15, already focused on going to college on a gymnastics scholarship, I moved two hours from home to live with my coach and go to a great school. It was a tremendous experience.

I did very well competing while in high school, but the demands of the sport put a strain on my body: in three years I tore my hamstring, tore the ACL in my knee, and broke my arm. But with aggressive rehab and perseverance I was able to recover and earn a scholarship to Radford.

In college, I made the best of friends and had the time of my life competing. Plagued with injuries again, I had surgery to mend my broken arm, but still worked out every day- running, stair machines, weights, gymnastics- while wearing a full arm cast!

At the end of my freshman year I returned to competition. Radford was invited to the NIT where I placed on balance beam and received All-American honors. During my sophomore year, I injured my right knee again, had orthroscopic surgery first, then another ACL reconstructive. I red shirted my junior year. In my senior year I reinjured my knee again, so I was given a medical scholarship and became the team's Assistant Coach and strength and conditioning coach, while also interning at Virginia Tech's Weight Club.
About this time I saw a fitness competition on television, and with encouragement and support from the people at my gym, I decided that this was something I wanted to do.

Graduating Radford with a B.S. in Exercise Science and a minor in Psychology, I enrolled as a graduate student in nutrition and exercise physiology at Illinois State. That year I placed fifth in my first fitness competition and learned what I needed to do to improve.

After graduating Illinois State with a Masters of Science degree in Exercise Physiology, I accepted an Assistant Strength and Conditioning Coach position at the U.S. Naval Academy- the first female ever to hold that position. The environment and athletes were unbelievably wonderful. Opportunities continued to present themselves and in 1998 I became a Strength and Conditioning Coordinator for the University of Florida Gators women's athletic teams.

In the summer of 2000, I won the Mid-Florida Muscle Classic, the Jan Tana overall, and my height class at USA Nationals. Winning at the Nationals gave me professional status, and I was ecstatic that I had earned my pro card so quickly.

In 2001 tennis season I was called upon to be Monica Seles' performance coach, handling everything from her nutrition to fitness training on the road and at home. As you can imagine, the experience was phenomenal!

Finding an opportunity, I became the Director of Strength and Conditioning at the National Cathedral School in Washington, DC, and began to train at Gold's Gym in Arlington, VA. My current goal is to continue doing my best in my fitness careers.
Personal Trainer Lisa's Impressive Background:
Performance Coach: Personal Trainer & Power-System Presenter
Design custom fitness programs and nutritional guidance and online coaching. Personal train, teach boot camps and group training classes. Travel to training conferences and present speed, strength, agility and a myriad of fitness topics for Power Systems

Director of Fitness/Strength and Conditioning, National Cathedral School, Washington D.C.
Designed sport specific, strength, conditioning, and nutrition programs for 16 varsity and junior varsity sports as well as all faculty, staff, alumnae, and parents. Designed a Heart Health Class for Women in conjunction with the National Institute of Health (NIH) for NCS Mom's. Taught two physical education personal fitness classes each quarter to upper school, one middle school fitness class in conjunction with eight middle school sport teams each quarter and one lower school fitness and nutrition class. In addition, planned, prepared and implemented performance assessments and progressions on each athlete/team and close community clients. Implemented all workouts for injured athletes. Planned and supervised two weight-room budgets.

Performance Coach to Monica Seles, Sarasota, Florida
As personal fitness coach to an internationally renowned tennis champion, was responsible for all areas of high-level athletic performance: strength, agility, speed, power, injury prevention, conditioning, and cooking all meals and meal planning—at home and on the road. While coaching Seles, she posted a 75-18 record in WTA Tour events, winning five titles and reaching the final of three other events. Seles also posted wins over Serena Williams, Jennifer Capriati, Martina Hingis during this period.

Strength and Conditioning Coordinator, University of Florida
Designed programs for women's tennis, golf, volleyball gymnastics, diving, and track and field programs, along with men's diving. Conducted summer camps and coaches' clinics for all athletic teams. Assisted planning and direction of Florida's first Strength and Speed Clinic. Developed the university's Strength and Conditioning Web page.

Assistant Strength and Conditioning Coach, United States Naval Academy
Designed and implemented strength, speed, and conditioning programs for football team; men's and women's basketball, volleyball, water polo, wrestling, and lacrosse programs; women's swimming team; and men's tennis team. Devised plyometric drills and conditioning programs. Provided strength, conditioning, and nutrition information for Athletic Association's Sports Medicine Newsletter. Supervised three interns.

Graduate Assistant Strength and Conditioning Coach, Illinois State University
Designed and implemented strength and speed/conditioning programs for golf, swimming, diving, gymnastics, volleyball, and cheerleading; assisted with football, basketball.
Testimonials:
"Lisa is such a great person and she is so committed to her health and fitness and a pleasure to work with."

-Monica Seles
Tennis Pro
Winning 53 WTA Singles Titles


"Our program made huge strides in all areas of conditioning under the direction of Lisa Reed. During the time she worked with our program, our team not only won four SEC Championships we went all four years without dropping a single match in the league."

-Mary Wise
Head Volleyball Coach
University of Florida


"Lisa will give you the training and nutritional tools to achieve the pinnacle of athletic and physique success!"

-Jose Antonio, Ph.D. CEO,
International Society of Sports Nutrition


"As a high school Athletic Director I look for extremely qualified and motivational instructors for my student-athletes, Lisa Reed fits the bill 10 times over!"

-Jimmy Sanabria
Director of Student Activities
Centreville High School


"Lisa Reed has a work ethic that is second to none. She's extremely passionate and her positive attitude is very infectious; she's an exceptional person that I have a tremendous amount of respect for!"

-Dave Balogh
Associate Head Coach
University of Florida Womens Tennis


"In trade magazines, Lisa is credited with being a major force in pro tennis player Monica Seles' comeback. I attribute my improved body image and healthy lifestyle to Lisa.

One year ago, I admitted to myself that I was 12 pounds over weight (expanding slowly year-by-year), had minimal muscle tone (despite the many aerobics classes I had taken over the years), and was feeling slightly winded after walking up a flight of stairs. Needless to say, I did not like the situation. However, I was not about to give-in to being overweight with the concomitant health conditions common to middle-aged American women.

Last August, I placed third in the Southern States Masters' Figure Competition (50+ years old), which entailed my walking on stage and posing in a two-piece sequined costume to display my toned physique! I barely recognized myself in the photographs taken at that event. What a difference from where I was the year before.

Lisa worked with me on a weekly basis both training my muscles and teaching me about nutrition and its importance in building muscle. Lisa's knowledge of the science and research underpinning her field is outstanding. Her combination of didactic learning (Masters in Science) and many years of hands-on experience (national title contender and professional gymnast) has not only opened my eyes to the professional aspects her sport but more importantly, has made her nationally renowned in her field as a personal trainer and nutritionist."

-Dr. Camille Barry
Beeren & Barry Investments, L.L.C



"I was elated to hear of Lisa Reed's appointment as the Director of Strength & Conditioning at the National Cathedral School in Washington, D.C. I have known Lisa since 2000 have admired her desired to not only challenge herself to become an excellent athlete but her ability to bring out the best in people around her. The students of this school will surely benefit from her knowledge and past experience. Hopefully one day, some of her athletes will compete in our organization, The Women's Tri-Fitness, to challenge themselves the same way as Coach Reed."

-Al Rosen
President of Women's Tri-Fitness
www.womenstrifitness.com


"I have been working out since the early 80's in San Diego. Lisa is the most supportive, directed, and creative athletic/conditioning coach to date. I love new challenges and Lisa is full of them! Lisa has that rare ability to not only increase my interest and strength via new and intriguing exercises, but also to enhance my workout pleasure."

-Harriet Scheuermann
National Cathedral School
Department of Mathematics
Junior Dean


"Lisa consistently kept me motivated to work out not only doing cardio but with weights which I was hesitate about doing. She helped me make working out fun and enjoyable! She would send me emails and and call to see how my workouts were going to make sure I was on track. She is a phenomenal trainer and is always so positive!"

-Lauren Epperly
Group Sales Manager
The Ritz-Carlton, Pentagon City


"There aren't enough wonderfully, positive adjectives to describe Lisa Reed. As a personal friend and former supervisor, her vivacious, caring, and gracious manner always make her a joy to be around. She is the ultimate motivator and consummate professional who goes out of her way to provide only the best for those students, clients and fitness competitors who are lucky enough to work with her. Lisa is a fiercely loyal friend who will always be your biggest cheerleader or an ever-present shoulder to cry on when you need kind and encouraging words. With her optimistic, winners-only attitude, unwavering confidence, and unstoppable, down-to-earth spirit, Lisa will go very far. I know I speak for a number of people when I say I am honored and blessed to know her, and call her my friend."

-Brenda "Meka" Gibson, CSCS
USAW Masters Weightlifting Champion


"Lisa has always been driven to succeed since I knew her in college. She brings a fire and desire to whatever she does. Lisa draws people to her and pushes them beyond their expectations."

-Bo Taylor, M.Ed.
Fitness & Aquatics Manager
NASM Certified Personal Trainer
Daniel Island Club
www.danielislandclub.com
www.boknowsfitness.com


"After working with Lisa throughout high school, I was well prepared for lifting in college, to the surprise of my college strength coach. She taught me the importance of weight training and the correct form, as well as imparting a love of the weight room."

-Anna Barrett
National Cathedral School, 2005
Dartmouth College
Women's Soccer Team


"Lisa is addictive! She is part teacher, part motivator, part coach, but full-time friend. She makes me challenge myself to be better and stronger. Hang around with Lisa, and you'll find her blend of technique, exercise, and nutrition will become part of your life."

-Elizabeth Mullen
Media Relations Specialist
Washington National Cathedral


When I was finally sick and tired of being sick and tired, Lisa was there to teach me to eat properly, get and stay fit, and build the body I wanted. Her combination of personal example, motivation and encouragement, and simple, consistent training techniques restored my health and literally changed the way I live. More than 60 pounds off in just over a year and building muscles I thought were gone forever. Lisa taught me to achieve, not dream!

-Greg Rixon
Director, Office of Public Affairs
Washington National Cathedral


"Lisa Reed is a motivator and and inspirational figure in the weight room. She is committed to developing the strength, agility and overall fitness of her athletes and her clients. She is dedicated to the needs and aspirations
of those she works with and will always demand peak performance. Lisa will encourage you to set your expectations high and in doing so will help you meet your goals."

-Ashley Dean
Assistant Volleyball Coach
Northeastern University


"Not only did Lisa help me to achieve fitness for competition in high school, she also showed me how wonderful it feels to always be in shape. In the NCS Weight Room, she showed us all the importance of exercise by patiently helping us to achieve our fitness goals, which ultimately helped our team to perform at its best. Although I no longer compete in college, I attribute my desire to be fit to Lisa's training. Her self-motivation is contagious. She constantly sends me workouts that make going to the gym fun. She is the perfect prevention from the freshman fifteen!"

-Ashley Speights
National Cathedral School 2004
University of Virginia


"I have known Lisa for 10 years, as a friend and colleague and you will not find anyone more passionate about training and leading a fit and healthy lifestyle. Live to be Fit is not her company; it is her life! If you want rock- solid, creative training programs combined with cutting edge nutrition and lifestyle tips, her programs will take you to your goals and beyond. Her passion will become your passion."

-Robert Lindsey, CSCS, USAW
Marketing Manager- Power Systems, Inc.


Coach Reed's background as a strength and conditioning coach, collegiate gymnast, and professional fitness competitor has garnered her the experience necessary to train individuals to their specific needs in pursuit of success. Lisa has overcome surgical setbacks and athletic challenges that enhances her abilities as a coach in the areas of fitness and strength and conditioning that enables her to have patience to adapt to the needs of her clients. Having known Lisa for over ten years in the strength and conditioning field - I know her to be respected, knowledgeable, and highly sought after for her opinion by her colleagues throughout the country. Working with Lisa will put you in position to achieve the goals you set for yourself - if you are willing to put in the effort.

-Barry Kagan
University of Maryland
Strength & Conditioning Coach


I enjoyed working with Lisa during her time at National Cathedral School. She was always professional, energetic, and enthusiastic! She did a fantastic job working with our athletes in getting them ready for competition. She also gave our college-bound athletes a jump start in their preparation for intercollegiate competition. I miss her upbeat, positive attitude!

-Jane Degrenier
National Cathedral School Lacrosse and Field Hockey Coach


Lisa Reed is a fabulous teacher of fitness. She made significant improvements in the technical aspects of weight lifting with my oarsmen. I believe that we got faster on the water due to her skills as an instructor in the weight room. Lisa is also a great resource for training ideas especially in developing core circuits and creative ways of make exercise fun and safe.

-Ted Haley
Head Coach
St. Albans Crew


"No doubt about it, Lisa Reed is one of the nation's most gifted personal trainers. Her depth of knowledge of physiology, kinesiology, diet/nutrition and general health is unsurpassed. After a three year hiatus from working out and healthy living; Lisa geared me up to be in peak shape at 41. I have never felt better or looked better and I am having a great time doing it. Inspiring is the word to describe Lisa and I am truly grateful to call her a friend. When I need that occasional pick up Lisa is always there and she knows just how to motivate me. Thanks, Lisa... you're the best!

--George McConnel"


Dear Lisa:

It gives me great pleasure to write a letter of recommendation for you. As you may recall, Wren Cooper and I showed up at the NCS gym--both of us over the age of 75--totally out of shape, but willing to put ourselves in your capable hands. She had been retired for ten years; I was about to retire, but both of us were happy to use the NCS facilities as one of the perquisites of former faculty.

Wren and I were particularly delighted to see the individual care you lavished on us both. Our programs were somewhat different because of previous injuries; however, we were able to work side by side, which was enjoyable, and to encourage one another. At all times you kept an eye on what we were doing and set a pace which was appropriate to our physical abilities. Your lively sense of humor and good-natured banter was a plus in a situation which could have been monotonous. By the time you left NCS my blood pressure had fallen to 124/68 and my combined cholesterol number was 190. Not bad for an old lady!

Both of us are indeed grateful for all of your patient attention to us and wish you well in all of your future endeavors.

-Ruth Ann Williamson (Mrs. David, Jr.)
Bethesda, MD


While I've always enjoyed exercising and maintaining a healthy lifestyle, I was stuck in a rut and was not seeing results. Once I began boot camp group sessions and then periodic strength training sessions with Lisa, I found a renewed excitement for working out and challenging myself to work harder. I definitely saw results, which was reaffirmed by family and friends and gave me additional motivation to try new exercises and approaches to working out.

Lisa is awesome -- she motivates you, pushes you to work harder, and is positive at all times. She listens to your goals and then works with you to help you reach them. And most importantly, you have fun, which makes you excited to be healthy. Lisa also emphasizes how being healthy is working out and nutrition, and finding a realistic balance that will work with your lifestyle and patterns. She is the best!


-Lindy Mochovak


"Give the world the best you have, and the best will come back to you."


Accolades from Lisa's Clients
| | |
| --- | --- |
| | Abington |
| | Alexandria |
| | Amherst |
| | Annandale |
| | Appomattox |
| | Arlington |
| | Ashburn |
| | Virginia Beach |
| | Arlington City |
| | Ashland |
| | Bedford |
| | Belle Haven |
| | Berryville |
| | Big Stone Gap |
| | Blacksburg, |
| | Bland |
| | Bluefield |
| | Bowling Green |
| | Bracey |
| | Brookneal |
| | Buena Vista |
| | Burke |
| | Burkeville |
| | Cape Charles |
| | Centreville |
| | Chantilly |
| | Charlottesville |
| | Chase City |
| | Chesapeake |
| | Chincoteague |
| | Christiansburg |
| | Clifton |
| | Clifton Forge |

| | |
| --- | --- |
| | Collinsville |
| | Courtland |
| | Covington |
| | Culpeper |
| | Cumberland |
| | Dale City |
| | Danville |
| | Edinburg |
| | Elkton |
| | Emporia |
| | Fairfax |
| | Fairfax City |
| | Fairfax County |
| | Falls Church |
| | Farmville |
| | Floyd |
| | Fork Union |
| | Franklinville |
| | Fredericksburg |
| | Front Royal |
| | Gate City |
| | Great Falls |
| | Gloucester |
| | Gordonsville |
| | Gretna |
| | Grottoes |
| | Hampton |
| | Hanover |
| | Hansonville |
| | Harrisonburg |
| | Hollins |
| | Hopewell |
| | Jonesville |

| | |
| --- | --- |
| | Kiptopeke |
| | Leesburg |
| | Lexington |
| | Lovingston |
| | Lunenburg |
| | Luray |
| | Lynchburg |
| | Manassas |
| | Marion |
| | Martinsvillle |
| | McLean |
| | Newport News |
| | Norfolk |
| | Norfolk City |
| | Oakton |
| | Oak Grove |
| | Onancock |
| | Orange |
| | Phenix |
| | Petersburg |
| | Petersburg City |
| | Poquoson |
| | Port Royal |
| | Portsmouth |
| | Pound |
| | Pulaski |
| | Purcellville |
| | Radford |
| | Reedville |
| | Reston |
| | Richlands |
| | Richmond |
| | Richmond City |
| | Roanoke |

| | |
| --- | --- |
| | Salem |
| | Saluda |
| | South Boston |
| | Spotsylvania |
| | Springfield |
| | Staunton |
| | Strasburg |
| | Suffolk |
| | Suffolk City |
| | Surry, |
| | Tangier |
| | Tappahannock |
| | Tazewell |
| | Timberville |
| | Troutdale |
| | Tysons Corner |
| | Vansant |
| | Vienna |
| | Virginia Beach |
| | Warm Springs |
| | Warrenton |
| | Waverly |
| | Waynesboro |
| | Waynesboro City |
| | West Point |
| | White Stone |
| | Williamsburg |
| | Williamsburg City |
| | Winchester |
| | Windsor |
| | Wise |
| | Woodbridge |
| | Wytheville |
| | Yorktown |
| | Dale City |
| | Woodbridge |
| | Lake Ridge |
| | Northern Virginia |
Lisa is an in-home personal trainer in Alexandria, Arlington, Fairfax, Tyson's Corner, Vienna, McLean, Northern Virginia, and some parts of Loudoun County and Fairfax County.
Our personal trainers, at Every Body's Personal Trainer, are available for in home personal training at all of the above locations in Maryland. Have one of Maryland's best personal trainers work with you in the comfort of your own home. Our in-home personal trainers in Maryland will bring the equipment necessary to give you a great total body workout in the convenience of your home. Give us a call today to get started on your path to achieving your goals with one of our in home personal trainers in Maryland.